Daddy bought the Baby his first Jersey!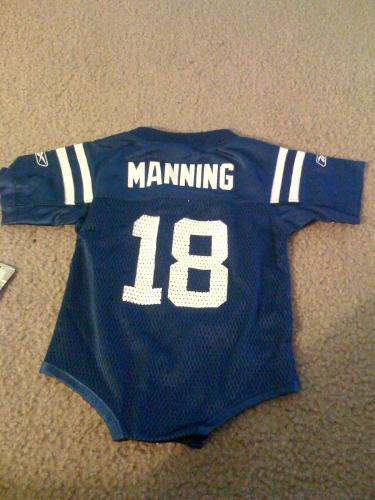 United States
July 23, 2009 4:49pm CST
I know, I am a woman, and am supposed to hate sports or some such nonsence, but my man bought our baby his first football jersey the other day. And he picked my team for it. Most women love flowers and floofy stuff like that, I was so excited, I felt like he had bought me a diamond or something. What a guy to be so thoughtful to get a jersey for my team and not his. I love him!!
4 responses

• United States
23 Jul 09
That is so cool. It's neat to see a Daddy so into their baby, and I think it's wonderful that he picked your team. I understand the feeling of being excited about that. I also don't care for the floofy stuff. My husband can make me smile by bringing home my favorite candy bar. It's just nice to know that he is thinking of only me for that brief moment.

• United States
23 Jul 09
I agree. My ex used to want to do candlelit dinners every night and spend time 'looking into each others eyes'...I just hated it! I thought maybe something was wrong with me until I met this man...he is so unromantic, but when he thinks about me, I know it.

• United States
23 Jul 09
:) I'm glad to hear I am not alone. Unromantic is definitely the word around our house, but it doesn't mean a lack of love! Congratulations on your baby.

• China
12 Aug 09
it is so cool of your husband, i think it is the best gift to your child and you. maybe you can get a wonderful jerseys here in our site www.jerseyshop365.com we will offer the best gifts to your husband. thanks for sharing.

• United States
26 Jul 09
The man for me will know Not to buy flowers, buy hockey tickets or at least,buy a pizza and watch the game with me instead.Which team is your football team?Please don't say the cowboys. I am a Redskins Fan.

• United States
1 Aug 09
LOL, nope, not the cowboys, but the Colts! I am SOOOO excited for the season to start!!

• United States
2 Aug 09
The Colts.Okay.Do youthink Peyton can take you to the Super Bowl this year?


• United States
14 Aug 09
Who says women are supposed to hate sports?

I can't live without sports, whether it's football, soccer or hockey; they're just too much fun, especially when my team is winning and I'm jumping up and down and cheering like a maniac. LOL! Well...now all three of y'all are going to be ready to cheer for your team(s) when they play. I'm sure it's going to be fun for you.