Weather like in the cartoons!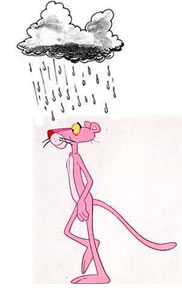 July 24, 2009 11:18am CST
Right now there is a huge thunderstorm going on around me. But here is the funny thing if I go into the back garden it is pouring with rain but out the front of the house it isn't raining at all, and no I don't have a huge house, lol. So basically the weather front is split somewhere above my house. It's just like in the cartoons where the rain cloud is right above you but nowhere else. Has anyone else experienced this?
5 responses

• India
24 Jul 09
Yes I have experienced this actually!

. This was more than a decade ago in our previous apartment. It was the funniest thing I had ever seen.I was still a kid then. When we looked out the window, on one side we saw the sun, behind the hills as it was almost sunset. On the other side of our building, we saw rain.


• United States
24 Jul 09
I don't think that I have experienced this before. I think that the name they use when something like that happens is isolated. It's an isolated storm. It's odd that it is in the back but not the front of your house. I don't think I've seen something that isolated before but I wouldn't doubt that it is possible.

•
25 Jul 09
Hi, many thanks for your response and the correct terminology. I tell you it was so freaky, if I wasn't in the middle of it I wouldn't have believed it, lol.

• Greece
24 Jul 09
Hi friend, that certainly sounds like a unique weather experience, has it moved over the house yet I wonder, will it catch up on itself and eventually rain both front and back. We have what I think of as sideways rain where it attacks the house from one angle only so one side takes a bashing at the side but it won't hit the house at the front but you can see it going past.

• India
24 Jul 09
Well I dont have same experience at my home or sorrrounding area because we are living in Building and it is in some highside where water pass away to the DRAIN. So not worried, But here in Mumbai there are many area where water loggin is big trouble.