Safe home remedies for clogged bathtub drain

United States
August 1, 2009 8:32pm CST
I am so sick of struggling with my bathtub and its slow draining of water. We have tried various things to unclog it. We don't have money for a plumber. Can anyone think of any thing that we can use that won't harm the pipes to unclog the drain. After I take my bath it takes at least an hour for the water to go down. I just hate it. It makes it hard to clean the tub also because the water drains so slowly.
5 responses


• United States
2 Aug 09
One of the best things to use believe it or not is the combo of baking soda and white vinegar...yup--it works--you might have to do it several times, but will unclog. Bail out any standing water, and sponge out any excess, then take about half to a whole cup of baking soda and pour directly into the drain...then take about a cup of white vinegar and pour that down...be ready for a rather "explosive" surprise (it's harmless...but does surprise someone when they aren't expecting it)---let stand for about fifteen or more minutes...then add boiling hot water and pour that down..if it doesn't work the first time keep repeating..it may take longer than chemical ones, but it does work...

• United States
2 Aug 09
PS--I had to unclog my bathroom sink last night...but not with the baking soda/white vinegar...I was able to unhook the stopper, pull it out and dug in with an wire...yuk...you should have seen all the clogged hair that came out


• United States
2 Aug 09
Great post and suggestions. Wonder if all the hair that came out was cat hair (hee, hee). I am sure I will have a good portion of cat hair in my drain. I have a drain strainer thingy and when the bath water is draining I try to collect as much hair as possible. I used to use Comet cleanser in the tub and that, combined with the hair, must make for a gooey, sticky mess. We really need new pipes but alas the old money situation. Thanks bunches for the suggestions. Can't wait to try them.

• United States
2 Aug 09
Yes a lot of the hair was from the feline persuasion


• United States
2 Aug 09
You might have something stuck in the pipe. Try a "poor man's sewer snake." Take a wire hanger and unbend it so that you can slip it down the drain, twisting it a little as you go. If you're lucky, you can dislodge items or gunk and get it running again. Or try baking soda and vinegar. Sometimes that helps. Pack the drain with baking soda, then pour vinegar over it, wait until it quits bubbling, and pour vinegar again. Keep doing this until it won't bubble at all. Another thing to try is to put a half cup of Tide down the drain and pour a gallon of boiling water down it. Do this two or three times and it will dissolve gunk and flush it on down.

• United States
2 Aug 09
Great suggestions! I knew I could count on my myLotter friends to help me out. Both the baking soda and vinegar and the Tide tricks sound really good to me. I am going to try them and hopefully, if I remember, I will let you know what happens. This problem has been bugging me for a while now and I will be able to celebrate if I can fix the problem without calling a plumber. I appreciate your response.

• United States
2 Aug 09
i usually use drano for the worst of the worst. it sounds like you may have roots in your drain if it's that slow. i always had that problem in arizona.constantly backing up tub.

• United States
2 Aug 09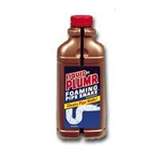 From watching the show "How clean is your house" I learned that putting first baking soda and then vinegar into your drain area and leaving it for an hour then taking a plunger and plunge the heck out of the drain with water of course and it'll come unclogged. Now if that doesn't work, get Liquid Plumber, the foam kind and that WILL work. I know this because I've had to use some in my house as well as my parents and it worked like a charm every time! You pour the amount it tells you to into the drain and wait a certain amount of time then you pour water to get it to go down the drain and there you have it! A nice clean drain and pipes! lol Good luck with that momiecat!