What do you do when you can't sleep at night?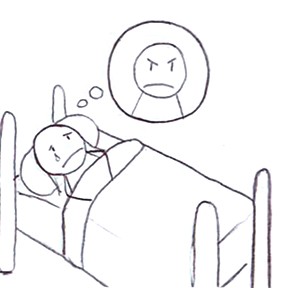 India
August 3, 2009 9:22am CST
Sometimes,I feel soo frustrated when I couldn't sleep at night.There's so many thoughts going around my mind at that time. Mostly I use to read books or play some computer games or do some posting on myLot. What do you do...when you couldn't sleep at night?
4 responses

• Malaysia
3 Aug 09
Hi jimmy87, When ever I can't sleep at night, I just lay down on my bed and thinking something. Anything. But if I really need my sleep, I always thinking something that make me so bored. Usually its take half an hour before I slept. But if I didn't have anything important to do on the next day, I just started my computer and playing games or watch movie. Or something like posting in mylot or browse internet. If I am watching the movie, I prefer lay on the floor or bed. Sometimes I will slept before the movie finished. Good luck and have a nice day.

• Philippines
3 Aug 09
Well, oftentimes if I can't sleep I listen to music, read a lot and if it doesn't work I pray to God. It does work! Reading lives of saints is a great help.

• Philippines
3 Aug 09
I have the same problem. It's not easy for me to sleep at night. It's usually noisy inside my head. I hear music, snippets of conversations and even lines from movies and TV shows. What I do is try not to struggle against the noise inside my head and just let myself fall asleep. I close my eyes and hug my pillow tight. I just let my thoughts be. I fall asleep in about 15 minutes after I close my eyes.

• India
3 Aug 09
That is why it is advised before going to bed if one meditates for 15 minutes then he is able to sleep deeply. Method of meditation varies from person to person. Some focus ontheir incoming and outgoing breath, some chant some shloka or name. Try any of these and I assure you that mind will stop wandering. Besides a hot cup of milk before sleep brings sound sleep.