2 Golden Retreivers died when they are hiking...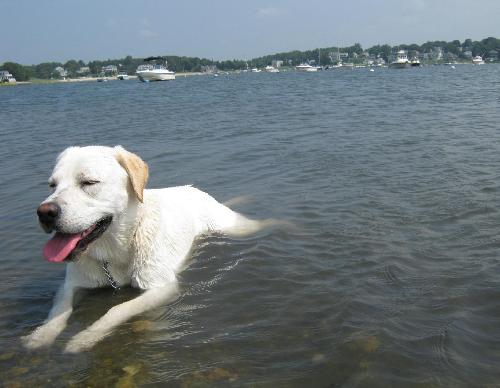 United States
August 11, 2009 12:47pm CST
I heard this news yesterday on Yahoo, it happened in my home country, there has been really hot, over 90 degrees everyday ~ like 33 - 36 celcius. The pet owners brought their two golden retreivers to hike, since they have such a long hair and the temperature is too hot, they got over heated and passed... I was so suprised when I heard the news and I felt so sad... I can't believe the owners just let their dog walk like that with layers of fur! Why they don't think about it? It is so abusive... think about wearing leather coat + gloves + scarf + thick boots in the summer on the beach... same thing as the long hair dog... I think being a pet owner needs to be very careful to take care of the pets, just like taking care of the kids~babies... they don't express good enough to tell you how they feel so we need to pay attention on it. What do you think about this issue?
4 responses

• United States
12 Aug 09
some people dont care much for their animals because they just get an animal to fill a void in their lonely lives. they r not that serious about owning a pet.

• United States
11 Aug 09
I'm saddened to here that news. Unfortunately, it's not even just the long-haired dogs. Sadly, too many dogs of all sizes & coat types die of heat stroke every year. While this particular owner meant to exercise their dogs, it turned deadly due to the surrounding circumstances. So two big rules to follow if you are taking your dogs out during hot weather: Rule #1-Don't go for an extended period; make it a short trip and..... Rule #2 (the most important)-TAKE WATER!!! If your dog gets dehydrated, that can be very dangerous. Be sure to take breaks and give your pooch time to breathe and rehydrate. After all, when we run a race, don't you want some water or Gatorade to replenish yourself? Dogs need water to keep hydrated and cool. Stay safe and have fun with your dogs this summer! :)

• United States
11 Aug 09
Right! Water helps it a lot when they get really hot, he was way too hot when I brought him down to the beach other other day, I put him on the shady grass to resta little bit and gave him water. My lab is a big swimming dog, he loves the water very much so when he sees it, he will go straight to it, he won't let himself stay hot! :-D Thanks for sharing :-)

• United States
11 Aug 09
That's really sad news. I took my black lab for a long walk the other day but realized it was too hot outside to continue, so I brought him back home and gave him plenty of cold water. My pets have always been like my children and my friends, and I would never want to harm them. It saddens me to think people can be so careless with their pets.


• United States
11 Aug 09
Mine is a lab too, it is yellow ^_^ Yea, I treat them just like my fmaily member, I take care of them very good :-)


• United States
16 Aug 09
The news said they did but apparently it was not enough... their fur was hot enough to kill them :-(