A Mother's Choice? Which Would You Choose?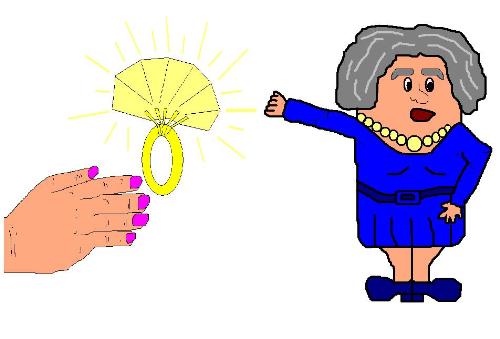 United States
August 23, 2009 4:19am CST
I was talking to my daughter and her partner the other day and I was saying how if my mother had to choose between me and her expensive jewelry that she would have a hard time doing so. I've also said this same thing about both my mom and my dad when it comes to money. Money is VERY important to my parents, in a not nice way sometimes though of course they love us and they do help us out but still, you know not to ask some things because the parents are going to say no. I mean my mother refuses to buy an almost $4 jar of the good pickles because they cost too much!! Please, how many pickles do you eat, why not have the good ones if you are going to eat them? Anyway, my mother loves her jewelry a lot. So the other day my mother was at our house and I decided to ask her the question, which ONE would you choose and you HAVE TO choose one - 1] Never to see your only daughter again (that's me BTW) OR 2] To grind your wedding and engagement rings up in the garbage disposal. That was the choice I gave her. And my mother sat there and went "hmmmmmm" and sat thinking about it! Then she says "that's a hard choice" Then after some more thinking she says "well of course I love my daughter more than jewelry." Too freaking late mom!! AND she never said she'd grind up her ring. Geez, if I was asked that question, it's a no-brainer to me, my daughter is the choice always! I don't have to think about it! Even if my choice was between something that meant the world to me and my daughter, my daughter is the choice! It's possible I might be rapid and unreasonable on the subject of how much I love my daughter and how important she is to me but I thought that's what being a parent was about!It's a good thing that I have had years of counseling. I can look at my mom and realize, wow, that is one messed up lady! And I do know that she loves me and the rest of the family as much as she is capable of loving anyone. But once in a while, you just want your mom to say, "oh yes, I would throw myself in front of a bus to save you dear because I love you so much!" Be careful what you ask your mother, you might not like the answer. So what would you choose if you HAD TO make ONE choice and that choice was between something that was very important to you and whether you would ever see your child (or adult child)again?
4 responses

• Canada
23 Aug 09
Well you're right about one thing, Be careful what you ask your mother, you might not like her answer. If you think your situation sucks, not that I'm saying it doesn't, but I said to my mother one day, You just didn't want a girl, because you don't treat the boys like the way you treat me. How's this for not a happy answer she said, You Got That Right. I'm sure if I didn't weigh three times what my mother weighs she may have thrown me under a bus and not even once can I honestly remember my mother saying I love you. I think when this is the way our life is then we need to learn from this and use the values we have to do better. That's what I did I had my daughter when I was 22 which funny enough is the same age my mother was when I was born. My life turned me into one of the best mothers, I know because my daughter says so and so did a lot of her friends and I even took in foster children when they needed me. Guess that's what they mean when they say when life throws you Lemons turn it into lemonaide. Take Care My Friend.

• Canada
23 Aug 09
I should have also added in properly answering your post jewelry, money or any possession would never measure up to my love for my daughter or my grandchildren. I'd give it all away for my kids.

• United States
25 Aug 09
Nothing could ever keep me from my son in a million years - nothing - we could live in a box with only the clothes on our backs but we'd be together.

•
23 Aug 09
When I started reading this, I was expecting to be faced with a difficult choice but the rings would be gone in a second! There is no material possession I own (or am ever likely to own)that even comes close to being as precious as either of my sons!

• Canada
29 Aug 09
But what would be the point of grinding your rings up in the disposal? Now, if someone asked me if I loved my husband (I don't have kids) enough to sell my jewellery for food if we were poor, I'd say yes in a heartbeat, but to simply toss valuables out for no good reason? I don't see the point! There always has to be a reason.