how do u make your child eat his food

India
August 26, 2009 6:08am CST
hi friends , i am very tense these days my 2 year old son is not ready to eat anything , he just wants fruits or sweets , he'll have a glass of milk in morning at 9 o clock and after that he will not eat anything , i tried in almost all way but invain , then i beated him and he cried for 1 hour and then slept hungry , what shall i do ???????????
3 responses

•
4 Sep 09
Id be more concerned you hurt him enough to make him cry for an hour!!!! Offer him good nutricious food leave him to eat it dont shout or make a fuss but sit with him and show him a good example by eating the food with him. If he doesnt eat then leave it and try again at the next meal, a toddler will eat when they are hungry simple i do not think beating a child to make them eat is either healthy or normal and is a sure fire way to give your child some serious unhealthy habits about eating!!!

• United States
27 Aug 09
Well, my daughter isn't 2 quite yet, but I have had some issues with her as well with her eating. They DO say that they eat when they are hungry, that they won't eat because they just don't want to. Are you just having problems having him eat healthy foods, besides the sweets and fruits? Or does he just not want to eat what so ever?

• Philippines
26 Aug 09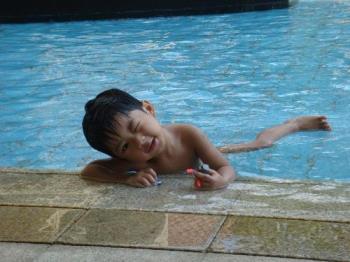 Hi, we have the same dilemma with our kids. Mine is 3-year old boy and he's also not yet eating what he's suppose to be eating like every normal kid in my neighborhood eats which is rice. He just likes his milk and sometimes cookies. I also don't know what to do. I tried different brands of vitamins which enhances appetite but just the same. Maybe from the responses here we both can get some tips:).