Have you ever suffered a Hard disk crash? Or lucky enough to escape it?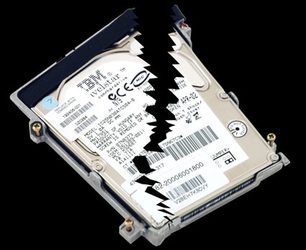 India
August 27, 2009 2:37am CST
The title is attractive, isn't it? I recently suffered a hard disk crash and had to loose all my data. It was my foolhardiness on my part that I didnot back up my data. Atleast I should have backed up my technical data. But I did not do it and now I am suffering. It took three years of dedicated effort to create a very very nice collection of technical data from my field which even the librarian would be jealous of and now I lost it. All because of that silly hard disk crashing. I was under the impression that I cannot have a hard disk crash. It can't happen to me. But I was not lucky enough. So are you lucky enough to have escaped experiencing it? Or if you have experienced it then have you retrieved all the data you had lost? Tell me and share my grief.
3 responses

• Italy
27 Aug 09
Hey there! You are busy again - great!

I too thought it would never happen to me but then it did about two years ago. I lost loads and loads of photos and the first things that I did when I first had my computer ten years ago. It was a sad experience but I have since recovered. Is that what caused your absence here? I hope that you will be able to be active now because you really have been missing a lot, both in terms of fun and cents.

• India
27 Aug 09
Yes, I am busy again and I like it very much. Its feels great to know that I am not alone in this (lol), but feels sad that it happened to you. You will have lost awful lot of things, I suppose. The hard disk crash was a recent thing, just 20 - 25 days back. But since I was studying for my third year engineering exams and then came fourth year with all its projects and submissions, which kept me away from the site. Now I have completed it and now am preparing for MBA entrance examinations. So I have time again to visit the site and get some of those cents. What is it that I could have missed most? I know I missed many friends here, with whom I use to have nice chats and discussions. BUt other than that what else?

• India
27 Aug 09
Yes I read about it one of the discussions on that topic. I checked out the link and the tasks look bit boring to me since it will be me alone working on it. The enjoyment which you get from interacting with others on the discussion thread is lost here. And I also had one more question, now that you have raised the poin tof earning. After I reach my firs payout, which I suppose is around 10 dollars and I ask them to transfer it into my account on paypal. My account will again show 0 dollars as balance, I suppose. so what after that? I again need to reach 10 dollars to qualify for another payout or this time I need to reach a higher payout?? I mean is 10 dollars the target we need to reach each time after we ask for payout?

• Italy
27 Aug 09
If you set your minimum at $10 then when you reach it, you will receive it automatically without having to request it, on or before the 15th of the month after you reach it. Then you just carry on posting until you reach it again. The more you are active the sooner you will reach it

I too prefer the discussions and have not yet done any of the writing tasks. They seem too much like going back to school to me



• United States
31 Aug 09
Yes, I my hard-drive crashed last October, and I was without a computer for several months. It was very depressing. I lost all the data on the hard-drive, but that didn't bother me as much as not having a computer or being able to get on the Internet. Some of the data I can get back without too much trouble, but some of it is probably gone for good. It is always a good idea to do regular back-ups just in case something like this happens.

• India
4 Sep 09
Oh yes purplealabaster, that is what I have definitely learned from this experience and I now regularly back up the important data. Thank you for responding to the discussion. It really helps me to know I was not the only victim. Sorry if that comes across as rude or selfish.

• United States
5 Sep 09
No, Ankush_uict, it doesn't sound rude or selfish. I think it helps to know that other people have been there and experienced situations similar to what you have experienced. It makes us feel better to know that we are not the only ones foolish enough to have not backed-up our data on a regular basis.

• India
6 Sep 09
Oh yes, so true. You exactly spoke what I had in mind. But was just bit in doubt whether to post it or not. :)

• Philippines
27 Aug 09
i think it happened to me once or twice. one the first HDD crash, i wasn't able to retrieve any of the files since the drive is can no longer be detected by the motherboard. the 2nd time it happened, i was able to retrieve some files but most of the important files are already gone.

• India
4 Sep 09
Oh it was bad enought when it happened the first time. We could have overcome our emotions at that time. But when it happened with you for second time, how did you react, since you had lost the data the second time?