Have you ever ran away from your school with out attend class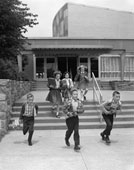 India
September 2, 2009 7:19am CST
Dear loter Have you ever missed your class??? You gone to school but ran away from school with out giving your attendance. I did it twice and enjoy a lot with friend but when caught by the teacher can not say what happen............you can imagine.
6 responses

• India
14 Sep 09
Hello my friend rajupaul Ji, Yes! I remember, whenever there was health check up or there was fear of innoculation or vaccination, I will run away and avoid taking such injection. I wa salways afraid of myself, that I might be having some problem and teacher will never allow me to sit in teh class. Even today, i am aftraid to take any injection.

• India
14 Sep 09
Hello my friend rajupaul Ji, So nice of you for sharing your similar experience with me. I thought, I was alone to run-away under those conditions. May God bless You and have a great time.



• United States
5 Sep 09
I do sometimes. During final exams at the school I used to attend, students are still required to go to class after the exams but no work is done. Many of us just end up leaving without going to class. Once, I was leaving with my friend and we ran into the security guard reading his newspaper on the staircase. Thank god he didn't mind us though.

• China
3 Sep 09
i did this many times but in order to catch up with my classmate,it take me much more time to do this.

•
2 Sep 09
I used to do it often as I found myself unable to be in the lessons due to an overwhelming amount of anxiety. I wasn't one of the "bad" kids who just did it to be cool and break the rules. There were a number of times where I was so scared that I just had to hide in the toilet for ages until everyone had gone. This could be for hours at a time. But you get used to it. I spent most of the last two years of school doing this. For some reason it became harder then, even though most of the bullying had stopped. Looking back now I can't believe how serious I let it get but at the time I felt I had no other option as I didn't want to go to the other school in town as if you go there are aren't a "chav" you will most certainly get bullied. My brother and sister used to go there and both were bullied throughout the time there.

• India
2 Sep 09
I could never do that. Through out my school days I had 100% attendance. I was the best student of my school every year. Only in college I missed some lectures. Even while working I never remained absent even for a day. My father was from militry and so this discipline was in our blood.

• United States
2 Sep 09
The only thing I ever skipped was the "pep rally" that we had to attend before football games in high school. I didn't go to the games, didn't see how it related to school and refused to go when I could be studying or reading a book. I would hide in the counselor's office and get a quiet hour of peace. I was never caught.