Something New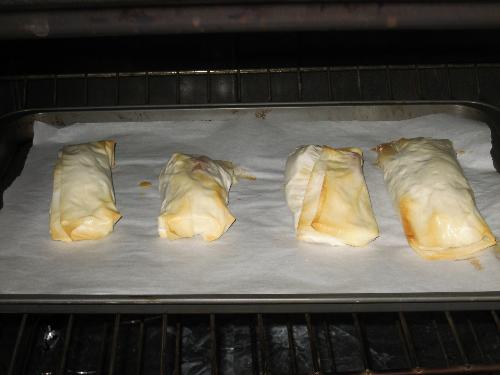 United States
September 17, 2009 3:52pm CST
This shot shows a new attempt at baking something from all my homegrown apples. This shot is from when they were about half done baking. My wife brought a box of Filo Dough home and I baked what tastes just like an apple turnopver except for the dough. We call them doo-dads. They are very tasty and I plan on making more really soon. When was the last time, if at all, that you had homemade apple turnovers? HAPPY POSTINGS FROM GRANDPA BOB!!~
7 responses

•
17 Sep 09
Hi GRANDPA BOB, The last time i had homemade apple turnover was when my mother cooked it many years ago, but shop ones never taste the same. Tamara

• United States
17 Sep 09
For my first time making them, they turned out half way decent. I have to use one more sheet ofg Filo dough though at least next time I make them this way. HAPPY POSTINGS FROM GRANDPA BOB!!~

• Garden Grove, California
17 Sep 09
we had some kitchen made apple turnovers awhile back and all of us'were saying oh why dont they do this a lot more often? for'me it was surprising as usually the cook isnt that good on these types of dishes. but it really was delicious.

• United States
17 Sep 09
These were great tasting. I plan on making/buying some dough next time and see if I like regualr dough or the Filo dough. Thanks also. HAPPY POSTINGS FROM GRANDPA BOB!!~

• United States
17 Sep 09
You know as much as I like to bake, I don't think I've ever had any homemade apple turnovers. What's wrong with me??? I need to try this really soon.


• Gloucester City, New Jersey
1 Dec 09
Hi GB - long time, huh? Haven't seen too much of you on FB either. These look really good, I have to say. Did you brush them with anything, like a simple syrup or maybe a glaze when they were done? How were they when you were done?

• United States
18 Sep 09
Ok, Grandpa Bob..I'm gonna end up baking a ton of apple desserts instead of canning applesauce if I keep reading/responding to your discussions. lol No, never had homemade apple turnovers before, just store-bought.

• Canada
18 Sep 09
yummy indeed. we've started to harvest some green beans, but instead of cooking them I end up eating them raw LOL hubby said next year I'm gonna have to hold and use them for cooking because that's the whole point of growing them, to reduce grocery bills :)