What would you dress up for nerd day?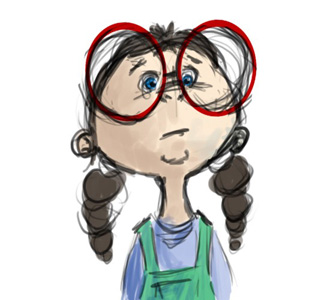 Canada
September 23, 2009 5:59pm CST
My school just had a spirit day with the theme "nerds", and I noticed people had some very interesting perception on this stereotype. Many girls wore their hair in two pigtails, some wore mini skirt and long stockings, and guys had their shirts tucked inside their pants:D and of course, most of the people wore glasses, some even had ridiculously huge green ones! I thought it was really interesting how people saw nerds. I didn't really think that two pigtails were a symbol of nerds, for instance. So, how would you dress up for a "nerd" day?
3 responses

• Philippines
24 Sep 09
Hi, AmuletGirl! Yap definitely 2 pigtails can be a symbol for being a nerd but definitely wearing eyeglasses, braces, tucked shirts or blouses, carrying big bags & books,and very neatly comb hair or hairdo...for girls, tying up the hair into a bun or if you want to wear your hair loose use a headband and for guys, put some wax on their hair and part the hair in the middle...hehehe! You know what? This kind of dressing up is fun and good for you that you have this at school. I do have such activities at work in certain occasions and our manager will award us gifts for the best dressed. Such activities exercise one's creativity, remove boredom in the everyday work life and inspire us to come to work with enthusiasm...and that applies as well to school. Enjoy dressing up and participate...have fun! Have a nice "spirit day"! God bless, girl!

• Canada
25 Sep 09
lol, you have so many awesome ideas! I really like spirit days, because like you said, it let me be creative, and it also allows me to change my appearance completely once in a while, which is really fun.

• Philippines
28 Sep 09
Thanks...hope you had your best time and sorry for my late reply.


• United States
24 Sep 09
LOL. This is funny. We had Spirit Week back when I was in high school, but we never had NERD day. It seems like a weird "theme", wouldn't you say? Are they also targetting other popular "cliques", like "jock", "preppy", "gothic", "skater" (etc) themes for Spirit Week? At my school, we had themes like school spirit (obviously - wearing our school colors), twin day (wearing the same outfit/hair do as a friend), opposites day, pajama day, etc. I was never really into the whole school spirit thing so in all honesty I probably wouldn't dress up for this. But hypothetically, if I did, I suppose I would try to make it "cute" nerd - instead of potentially embarrassing myself by going all-out. I would probably wear neon colors, converse all stars (sneakers - the brighter color the better), and like a PowerRangers shirt or something. lol.