to drive away mosquitoes, do u still use mosquito coils?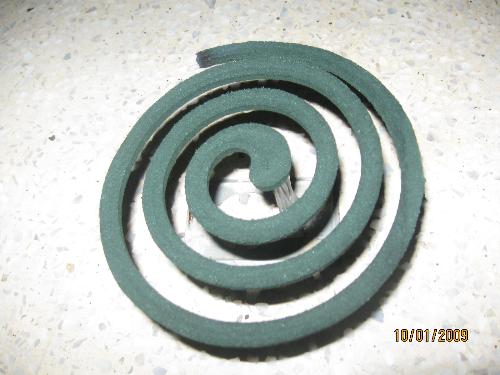 Philippines
September 30, 2009 5:54am CST
i really am affected by the presence of mosquitoes and it seems i am always their favorite prey. i always light a mosquito coil to drive them away. lately, however, i have refrained from using it because they say the smoke and the smell from lighted mosquito coils may lead to damage to the lung or liver. what is ur opinion? is there some truth to this?
8 responses


• United States
30 Oct 09
I haven't seen the mosquito coils, but I do know that the mosquitoes are always attacking me as well. I can be in a large group of people, and no one else will be getting bit, but I will be getting bit. Other people even say things like they didn't even see them. That is when it is just a bunch of little mosquitoes. Well, you don't have to see them to get bitten by them. LOL As far things to get to rid yourself of mosquitoes, did you know there was a such thing as a mosquito plant. Perhaps this will be more helpful if you are worried about using the coils for health reasons and such. Good luck to you in finding something to fight off the mosquitoes.

• Philippines
30 Oct 09
I have opted to use mosquito repellent lotions which are commercially available. Yes, I heard about that plant or tree. They name it "neem" tree and I heard they emit a certain smell that drives mosquitoes away.


• Philippines
25 Oct 09
I do use them at times because I have stopped mosquito coils. If we need to sleep in the living room because of weather temperature (living room is quite big and comfortable), we use mosquito net. It is always nice to sleep when you are confident that no mosquito bites you.

• Philippines
16 Oct 09
Prolonged exposures to mosquito coil's smoke definitely is not good for the body plus it's not that effective anyway. It seems that even mosquitoes are getting wiser, they know where to attack LOL They know how to get to areas not reached by the smoke. I stopped using mosquito coils, I prefer using off lotion whenever I go to areas with mosquitoes. Some lotions are designed for kids that are only effective for 3 hours and some lasts longer, up to 8 hours of protection, it is labelled "overtime" I'm not doing a sales talk here LOL just letting you know. enjoy

• Philippines
16 Oct 09
i know, manong. u were telling us in the other discussion that selling is not ur cup of tea and i take ur word for that.

i have stopped using mosquito coils, too.

•
16 Oct 09
Mosquitoes love me too, I went to Greece during a heatwave for a 1 week holiday and got over 150 bites ouch!! I then took Vitamin B5 for a couple of weeks before my next holiday and I didn't get one bite. I don't think the coils work at all I have used them without success. There is a new product on the market which sends an ultrasonic signal and that keeps all bugs away - a friend of ours uses it and they don't even have a single spider or fly in their house.

• Philippines
16 Oct 09
we are alike ... mosquitoes really choose to bite me and not my seatmate. i have stopped using coils now. i am trying the lotion that my son has. have a nice day.

• India
3 Oct 09
I fully agree with that. May be it is bad for our lungs. Besides it is dangerous too. I read in news papers that In so many cases, people light the coils at night and go to sleep. Due to the breeze the synthetic curtains will flutter and touches the coil and catch fire and major fire accident happens or while in deep sleep, the body part will touch the coil and it falls down catching fire to the nearest synthetic object thus causing accident. So we stopped buying it. Instead we apply neem oil or odomos cream to the body. We apply the oil of Pongamia which is highly effective

• Philippines
4 Oct 09
yes, that's true. i have heard about neem, and we were advised to plant neem tree. it is growing in our front yard now.

• Australia
30 Sep 09
Hi MMT, while I am answering your discussion, I am also actually shooing some mosquitoes here myself! LOL I use mosquito coil only in very rare occasions. Either that or I just learn to live with them pests sucking my blood out. The smoke from coil is harmful to the lungs. It is like inhaling poison but only after it has accumulated its toxins in our body do they become harmful. However, I also have asthma so I definietly shouldn't be inhaling the smoke from it. I rub repellant lotion but sometimes it makes your skin greasy and uncomfortable. Not to mention, it too has harmful chemicals that will later on cause build up of toxins. There are electric-powered mosquito repellants too that don't emit smoke, and don't smell bad but they are also toxic too. Whew, seems like we don't have much choice. Do we?

• Philippines
30 Sep 09
hi theresaaiza, that is something to think about the repellents, too. have u tried the mosquito swatter? it is formed like a tennis racket, have it charged for electricity then use it to swat or hit mosquitoes. my son enjoys using it

as it produces a sound once u hit a mosquito being "electrified". he enjoys the sound of it and he even exclaims, "happy new year" if he hits a lot of mosquitoes,



• Philippines
30 Sep 09
Hi there Money Making Today! Oh, I hate mosquitoes too. Well, I am not really sure about that but we don't use anti-mosquito coils anymore. We just apply insect repellent on our skin.

• Philippines
30 Sep 09
that is what i am doing now instead of the mosquito coils. thanks for sharing. God bless!