have you limted by ISP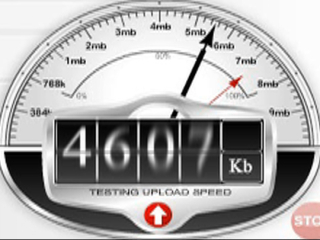 India
October 5, 2009 2:53am CST
We are the big users of internet channeled by ISP (Internet Service Provider) from where we subscribe our internet connectivity. Most of us uses un-limited internet speed to browse. But few ISPs limits the speed of accessing internet. Its some time frustrates with the services they provide because we have habituated with high speed. Did you faced this kind of problem? Then what you did to get back your normal speed.
6 responses

• India
5 Oct 09
yeah i had signed up for a 256kbps to a 2mbps dynamic speed initially my isp wud never let me have a look at 2mbps speed but after repeated complains they fixed and now my net works only at 2mbps so i m glad besides i have unlimited downloads but my time is restricted to a few hours a year

• China
5 Oct 09
I met such a situation ten months ago and they just told me that they had to limit the bandwidth to 1 Mbps. At that time, I had to request to recover to normal via more money. It is often very difficult to get back normal speed. If you have another choice, you'd better switch to other ISPs as soon as possible. Don't tolerant of them and just make a decision without any hestitation.

• Portugal
5 Oct 09
You have to remember that these speeds are imposed for two reasons. 1) Marketing - They make several plans so that people can pick and pay for something they find fitting for their situation and pay only so much for it. 2) Expenses - You have to realize that many ISPs are running on another telecommunication's company infrastructure, and for that, they must pay for the data that you transfer over that infrastructure. Even the actual telecomm company will have to pay for the data transfer when the data goes to infrastructure beyond their control (This is why certain ISPs may give unlimited monthly bandwidth to national transfers, but limited for international one). When you pool these two things together, you get the reason why ISPs have to resort to these tactics. By limiting speeds they can funnel more users through the same channels they are renting from other companies. And this allows people who only want a 2Mbps connection to get it for a cheap price, while someone who wants a 10Mbps one will pay a bit more. If we're talking about xDSL technologies at times it's also just impossible to provide certain kind of speeds (which unfortunately are many times promised and can't be delivered). They talk about a 24Mbps package... but you have to pretty much live glued to a communications central to be able to make use of that package. Imagine if there was only this 24Mbps package and everybody paid the same for it... some could enjoy of it and some could not, while the latter would be paying the same fee too. In addition to this there's also the contention ratio, which means that N people will be sharing a channel of the infrastructure. Let's say the channel supports 20Mbps and there's 4 people who will have to use it; if only one person is downloading, it'll have the 20Mbps for itself, but if all 4 are downloading, then they'll be all at about 5Mbps. Infrastructure is limited and expensive to expand in certain cases, thus sharing is obligatory and that can hinder the clients. If you believe that your ISP is really providing you a bad service, change. Between better speed/price plans and the fact that a given ISP may have access to specific equipment it may help your connection improve and make you enjoy the service at a better price. I swapped ISPs recently because the price was more promising, but while that and I got access to better speeds, the service isn't too great because they use a less common protocol and almost forces me to use their equipment. A router I bought actually works with their service, but I sometimes gets lots of errors on my connection as a return, and the equipment they sell comes locked up so I don't have access to half the options. Look into all those options carefully, it's all the advice I can give.

• Indonesia
5 Oct 09
Yeah, i faced same problem with you. at the first three months i can take it, but last week i can't take it anymore. So i quit from my ISP and find other ISP. now i don't have any trouble with this new ISP and hope i can used it for long time.


• Philippines
5 Oct 09
if your ISP is abusing you much, then you must think twice if you'll still continue their services. you can freely go out and check another ISPs for you to enjoy your connection. Good day!