How many TVs you have at home and what make are they?


India
October 19, 2009 9:21am CST
We have two TVs at home and they are Sharp and Sony. Sharp is eight years old and Sony few months old. Sharp is giving trouble now and we want to buy a new one. How many TVs you have in your house? What make are they and how old are they? Are you happy with them?
10 responses

• Malaysia
19 Oct 09
i have 2 tv. one is samsung plasma and another one is .. i cant remember GC or something. the samsung is what i used everyday, great product, if i connect it to cable service the picture quality is simply amazing. my second tv is actually bought as a souvenier to an old relative, but she did not like it, so it will station in my house for dunno how long..

• India
19 Oct 09
Samsung is so good is it? I think your second TV never wanted to leave you and go.

• Philippines
19 Oct 09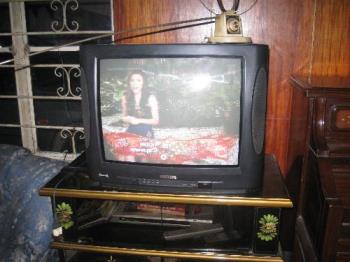 we only have one very old tv,

. it is Philips. i don't know how old this tv set is. it must be a little younger than my oldest son who is now 23 years old. (i am now asking my son who is here in the living room, he says the tv set has been with us since he was 10 years old,

). it still is functional but sometimes we are not getting very good images. two weeks ago, i was thinking of buying a new inexpensive one.

• India
19 Oct 09
Sometimes certain electronic goods work for a long time and some will go off very soon. In my house I bought two very small night bulbs, in red and blue colours when I was in the final stages of my pregnancy. I used to sing, 'Look at the blue light, baby, Look at the red light, baby', and my son used to look correctly towards the colour lights. Now my son is 32 years old. The blue light had gone, do not even remember when. But the red light is still there and my son has two children. I think I will have to sing that to them now. We cannot believe but it is true, a small bulb still working in a good condition. I think you would have developed a passion on the TV set by now. It has served it's purpose more than enough poor thing. That is why, like old age, it is giving some problem now.

• Philippines
19 Oct 09
We have 3 full size TVs and I have one pocket size TV. The pocket size TV is Panasonis and is my favorite among all, though it would not work already, because it was a gift to me from my aunt in Japan. The other TVs are NEC, Sansui and Sharp. The Sansui flat TV is one of those things I bought from my first salary!!! Yippie!!!

• India
19 Oct 09
How big the pocket size TV will be? It is interesting. The Sansui flat TV is a precious one to be bought in your first salary.

• Canada
20 Oct 09
We have one TV in here. It's a small apartment, and we only have one cable outlet. It's a little 14 inch GE TV that I got for Christmas about 16 years ago. it has some issues, but it still works well enough.

• India
25 Oct 09
hi buchiaunty, we have two tvs at my home. one is LG LCD and other other one BUSH TV, it is very old made. but we are not use now. i don't watch tv much. so, i don't know about the features also. thankyou, have a nice day.

• India
26 Oct 09
ofcourse aunty, its fine, no problem in that. have a nice day.

• India
27 Oct 09
hi We too are having two TV sets at home, one is a Weston colour TV which is 23 years old and is still in an excellent working condition and the other one is a Phillips 29" flat TV which is 2 years old and we are happy with both of our TV sets.

• China
24 Oct 09
Hello Buchi_bulla. We have used two TVs so far. We bought our second one after the first one had been used for more than fourteen years. Later it was completely useless and it was sold at a very cheap price like nothing. Our second one is working well. Both of them are our brands of our own country. I am happy with their performance.

• India
20 Oct 09
Hi buchi bulla, We have 2 tv's at home,One is Lg Flatron which we got it last year, and other one is Sony. Since my grandma was addicted watching serials we got the other one. She dont even leave us to watch any other channels or programs.

• India
20 Oct 09
Very interesting Grandma. Poor thing, let her enjoy. What else old people have as past time is it not?


• India
20 Oct 09
That is really convenient to have four TVs at home. Many can watch and one can watch at the convenient place. Thanks for the response. Why no discussion friend from your side? I went to your profile but did not find any discussion two days back.

• Eugene, Oregon
20 Oct 09
I only have one tv, a Sharp and it is 3 years old. I got it when my husband and I divroced, as I got with the settlement. It was one of the many things I bought. I hope to buy another tv for my sewing room, but I just don't have the funds right now, so all I need is just the one anyway. When I go to sew, I just shut the tv off, and spend an hour or two sewing before I go to bed. Since I live alone, it isn't necessary to hav more than one for now. I have the tv on, but just losten most of the time anyway.

Take care, and happy mylotting.


• India
20 Oct 09
I agree with you. Since no one right now is there to fight for changing the channels, I think one TV is enough for the time being.