Musi Bridge view at night


Indonesia
December 13, 2009 9:00pm CST
it's beautiful, last night i ate in River Side Restaurant, and get some pictures of musi bridge. i've never been in that kind of atmosphere at other place in Indonesia. the Musi bridge full of colourful light, and the restaurant has a boat tied up to the main restaurant. and we took the second floor of the boat so we can see clearer view of the bridge. i got a chance to night walk around the riverside. and it's great, with Benteng Kuto Besak view at the left side of the river.
3 responses

• Indonesia
15 Dec 09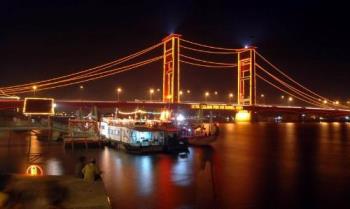 Well, what a coincidence! I live in Palembang, yes, the view is great in the evening. I have just moved here, anyway, about three months ago, and I haven't tried riverside restaurant yet. I should try it some other time.

• Indonesia
21 Dec 09
well, if i knew it earlier, i would have asked you to take me around palembang. he2. well Palembang should be more beautiful than now. it has very big potential for tourism. if i come back to Palembang i will try to travel to Kemaro island by using Ketek.

• Indonesia
21 Dec 09
Cool! So, when did you visit Palembang? Pulau Kemaro is nice, but kind of creepy for me. I just don't like being around graveyard, let alone being secluded in the middle of a river..



• Indonesia
30 Jan 10
i had ever visited Palembang, thanks to God.palembang is only a while because my aim city is Bengkulu.unfortunatelly i never enjoy my time in Palembang because the pressure of work and deadline. but maybe you can suggest me the favourite place in Palembang

• Indonesia
2 Feb 10
my hometown is Buton (5 hours away from Kendari, capital of South East Sulawesi). my previous job when iam visiting Palembang, Bengkulu and Lampung is survey for XL. my jobdesk in three city is to analyze,survey, take a data and make a report about XL tower and preparation for XL 3 G in Palembang, Bengkulu and Lampung.my job actually is only in Bengkulu and Lampung but there are no office of NSN (vendor of XL) in Bengkulu, so my project in Bengkulu, must be reported in palembang.

• United States
14 Dec 09
That is very beautiful! I did some articles on Indonesia and I would really like to see it, it's full of history and has some of the loveliest spots on earth. I have also heard that the people are very nice there. That photo is great!

• Indonesia
14 Dec 09
really, what topics that you have written about? i would like to read it. well if you have chance just visit Musi River in Palembang, it is in South Sumatran Island. well Palembang was the city of Sriwijaya Empire. i visited the Sultan Mahmud Badarrudin II Meseum, just right at the Benteng Kuto Besak and the Ampera Bridge, then i found it was a beautiful place when the Sriwijaya Kingdom in its victorious era.