Ok what was your favorite toys as a child??

United States
9 responses

• Canada
16 Nov 06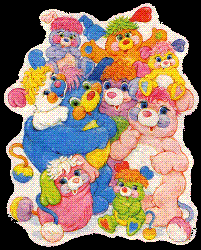 Good question! i forgot about Popples they were great, i also liked pound puppies and transformers. I am so glad they are bringing back some of these toys especially cabbadge patch dolls i have bought my children a couple of them now. I cant wait to see other peoples responses, i bet were going to be sitting here saying oh ya i remember that a lot. + for great discussion

• United States
15 Nov 06
I played with my legos & my Barbies a lot.... I also played house a lot and library


• Pakistan
24 Feb 07
as i was kid my toy was a doll.now i think that doll will come in her real face and smile.can i ask your name plz.

• Indonesia
31 Jan 07
my miniature car now its gone. never play toys since that. :)

• Philippines
29 Jan 07
its really barbie i loved the most. trolls are my second raves. :)