Lego - Do you still remember how to play it?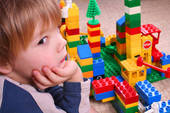 Philippines
December 23, 2009 5:35am CST
There are plenty of games to play and video games are always the perfect choice for everyone. Lego was introduced decades ago and some kids nowadays are not familiar with it. Do you still play with it?
3 responses

• Spain
9 Mar 11
As a kid I spent years in Europe, and there Lego, as being originally Danish, was quite common and fairly cheap. So from thr early 1970'2 on I played a lot with it. By now, things have evolved up to Lego Technik and the Lego Mindstorm for making computer-controlled robots. As for today's kids, yes the videogames stole a lot of market but the creative toys are on their comeback, and Lego is still very popular. There are user communities everywhere, and the parent's enthusiasm brought over to the kids. My 9-year old daughter still plays with Lego kits, as well as new ones as the ones I still kept from 35 years ago.

• Philippines
24 May 10
I was not able to play any lego toys when I was a kid. My parents could not afford such toy considering that it was quite expensive with respect to our status. Now that I have a child of my own, I made sure that he can have what I did not have. So I bought him a lego set. I could see that he really love it and I too played along with him.


• United States
23 Dec 09
I remember playing with Legos when I was a child. And it is amazing that they are still around! And they are pretty well known. Granted, they changed their style somewhat but, generally they are the same. The only thing about Legos that I don't like now is when I have to pick them up after my daughter has been playing with them. They are so small and there are so many I never seem to get them all. After I look around like crazy and believe that I have found them all, I close up the container and put it away. Then I step on another one! That's a little frustrating!haha. But overall, they are a good toy!