When did you get your dog?

United Kingdom
December 28, 2009 11:03am CST
I got my dog, Secret, in November 2004 and he came from a poodle breeder in the North East. I got my dog, Magic, in March 2006. She came from a family that were new to breeding dogs. Secret came with pedigree papers. He is mostly white with black patches. Magic is plain black. When did you get your dog? Where did he or she come from?
9 responses

• Puerto Rico
28 Dec 09
My dog came to me ten years ago this past April. He is a Shih Tzu who came from a distant family member. She was having a baby and already had a toddler and just couldn't handle it all. So they were going to take it to the pound but stopped by my house first. I said I will try having him for a couple of weeks and so the story goes. Now all these years later he is always at my side and follows me everywhere I go. Will start to bark if someone comes to close to me that he doesn't know and I know if someone was to try and harm me he would attack without hesitation.

• United States
28 Dec 09
I got Trixie from a animal shelter in Winston Salem about 3 years ago. I got Allie 2 weeks ago from someone off of Craigslist that lived near Raleigh. Allie was taken in by a neighbor after the original owners left town but they never had dogs before and could not handle the dog hair. Allie and Trixie are both Corgi Mix dogs and get along great. Allie must have been abused since she is scared of men, loud noises and voices and sudden movements. Very sad. She loves my son but is scared each time he enters the room. It will take time to help her feel like she is loved and cared for in our house. She does not know what to do with dog toys either. Very sad.

• United States
28 Dec 09
We just got our dog in November 2009 from the local humane society. He is a boxer mix is all they could tell us. He looks (and acts) like he may be part Labrador. He is a very good dog, having trouble though adjusting to our crazy family life, but we kind of anticipated that and are trying to make it as easy on him as possible :)

• United Kingdom
28 Dec 09
We must have got our dog back around 4-5 years ago sometime in July or August, i forget which. He's a Jack Russel called Bruno and we got him from a pet shop. He didn't come with any papers etc... but later we realised anyway that alot of dogs brought from that shop have problems, where the dealer is dodgy... Shame really as some of my neighbors have brought dogs with hip problems and digestion disorders.


• Shingle Springs, California
29 Dec 09
Our dog Lady came from the shelter after the Northridge earthquake. Muffin came from my brother when he moved out of town. Brandy was given to us by a friend after she found her abandoned. All 3 dogs are deceased now...

• India
29 Dec 09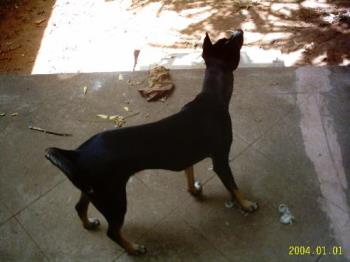 We have had pets in our house since many years. The first one was a doberman alsatian mix, the next one was a dalmatian the third a bullterrier and the 4th a street dog with some australian hound mix. The last one produced puppies and we kept them one the first litter and another the last litter. All these dogs lived for a period 2,11,11,16,15 and 14 years. Now I have a stray who just strayed in to our house. She is now 2 years old and although she gave us a tough time when she was a pup she has now become a perfect lady and her name is Preiti.

• Philippines
29 Dec 09

Hi. I received our dog Xiefu as a gift from my Bestfriend. She was delivered to our home in May 2008. She is purely white with a grayish-black spot around her left eye. She is dearly loved at home because she is so small and looks so cute.