We Saw a Birds of Prey Show!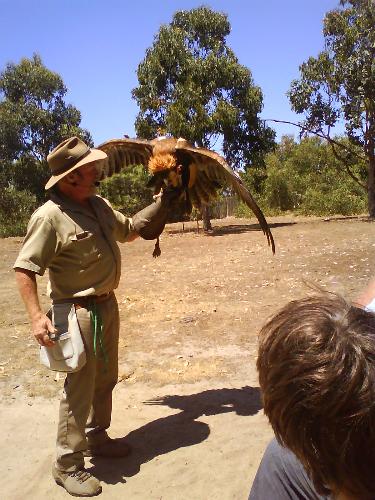 Australia
January 3, 2010 11:17pm CST
One of the places we visited on Kangaroo Island was at Vivonne Bay, where there is a birds of Prey show. An expert has a lot of birds of prey he has rescued and tamed. He puts a show, demonstarting with the birds can do, what they eat and how they live. Many of the birds can be handled, even though some are very large. We saw one bird eating a dead mouse. They are amazing creatures. The kookaburra was camoflaughed on the tree branch. on the tree branch. The barn owl was probably my favourite. The largest bird of prey there was an Australian Eagle, which I have attached a photo of. The expertt dragged a piece of rabbit along the ground and this eagle swooped it, and attacked it, then starting chewing it!!
2 responses

• United States
4 Jan 10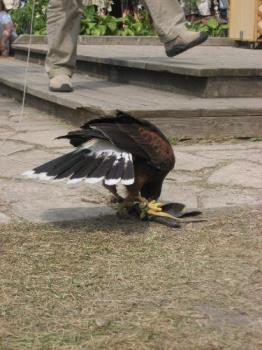 Cool. Our State Fair also has a bird of prey show. I got some photos of them as well. This one attatched is of some type of hawk that landed about 3 feet from my feet after a piece of meat the handler threw at him. This hawk was perched atop a Forest Ranger Tower which is about 50 feet tall. So it flew almost straight down, then opened its wing span fully floating to the meat near me. Thanks again for the photo etc. HAPPY POSTINGS FROM GRANDPA BOB!!~

• United States
4 Jan 10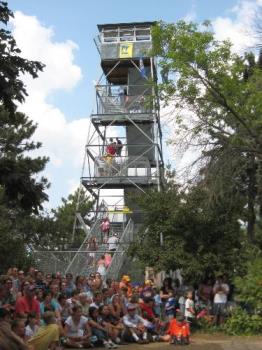 Here's a photo of that tower. The hawk was released from the area with thee windows 5 minutes after this shot was taken. They had to clear the tower so as not to scare the birds. The tower is open to the public to climb etc during the State Fair. HAPPY POSTINGS FROM GRANDPA BOB!!~

• Australia
4 Jan 10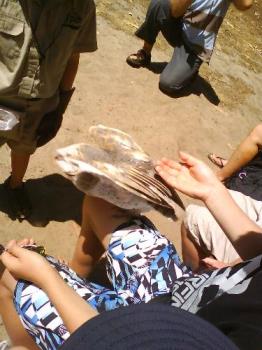 I viewed both your photos and left a comment. They are fascinating birds, and I must say I didnt know much about them. Here is one of the kid in front of me holding a farm owl, one of my favourites. I thought I had downloaed biance holding a bird, but it disappeared.


• Australia
5 Jan 10
It was an adventure, but a good way to learn too. No worries about using your cell phone.