Can you live without paper towels?

United States
January 4, 2010 5:05am CST
Earlier paper napkins were used right from restaurants to homes. Then came the paper towels which semed to be more costlier than the paper napkins or tissues..Now they have also become an inevitable item in households..Can you live without paper towels? Do you think you can manage household activities without the use of paper towels?
7 responses


• Hartford, Connecticut
4 Jan 10
NOPE! With a household of 4 dogs and 15 cats I am always cleaning up messes, cleaning running noses or watery eyes... I definitely use my paper towels everyday! could I use a few less..? Sure I probably could, but they are so useful. I also use them to put stuff on when I reheat in the Microwave.. Like muffins or even when I cook chicken nuggets- it helps soak up any excess grease. :-) Napkins just don't do the same kind of job.

• India
4 Jan 10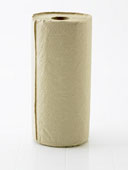 I use them all the time.I use them for fried things to absorb the oil, at eating time, on my travel anywhere for guests when they are around. Paper towels is a must in my house. They are handy even when one spills something on the table.

• United States
5 Jan 10
i have cut back, I now buy the ones that can be used in smaller sizes. I know what you are saying to yourself because I have said it to myself. JUST DON'T BUY THEM. I have a whole bunch of excuses, but I had better just suck it up and get more washing cloths.

• Lubbock, Texas
4 Jan 10
I could, but I don't want to. Without paper towels, washing all those wipe cloths I'd have to use to clean windows, mirrors, spills and my cats messes would just be more laundry than I want to deal with. I do buy the ones with the small sections, so I don't have to use a whole big towel for a tiny mess, but paper towels are right up there with toilet paper on my priority list.

• Israel
4 Jan 10
I rarely use them. My dad bought me some when he was visiting because he likes to use them. I haven't even used 1 full roll since he left last month. If I didn't have a cleaning girl, 1 roll would last 6 months. The cleaning girl uses them. What can I do? I give her a roll for dusting and scrubbing.

• United States
4 Jan 10
I can definitely live without paper towels, and I do! They are such a waste of money and resources--people scream about the environment and how we are harming it and all the while they use at least one roll of paper towels a week when a good rag would do! I quit wasting money on paper towels long ago. I do keep a roll handy but the last owner of the house left a couple and they are still here. I use dishrags to clean up messes and dust with, towels if a spill is really big. As for soaking up grease from bacon or something, I saved some newspapers from when I could afford the subscription and I use those for that chore. Sheryl Crow was bemoaning how much toilet paper we use but paper towels are much more abusive and wasteful. That said, I do think they are wonderful if you have a doggie mess to clean up or if your baby's diaper leaks on the floor, etc. But they should not replace rags and towels, that's so wasteful of both time, energy and trees.

• United States
4 Jan 10
I don't buy paper towels for my home. I feel it is a cost I can do without. I have sham wows to use if I spill something. I have a dish drainer to drip dry my dishes. I use toilet tissue to blow my nose. I can live without this. My mother can't live without them. She drys her dishes all day long and toss them out. Not me that is a waste of money.