Good headphones to work out in?

United States
January 5, 2010 4:24pm CST
Does anyone know of any good headphones to work out in? Let me explain my dillemma: I have the standard iPod ear buds, which drive me crazy from falling out CONSTANTLY. I've experimented around with other brands but I can't seem to find a pair that will stick in my ears.. while working out. (Because for me, music is a MUST for working out!) What about you? Do you have the same problem? Do you have any specific brands of headphones to suggest to me (include a price estimate, please!)
6 responses

• Finland
6 Jan 10
It's really up to your own preference. The big headphones which are on average a lot more expensive will stay on their place a lot more easily, but are not exactly meant for exercising and you should rather try to find a good pair of ear buds that stay in. if the standard eyepod ones don't stay in, I guess whatever you are doing has so much movement in it that it will be hard to find ones that do. Maybe try taiping the buds in your ears?

• Indonesia
6 Jan 10
I think it is very hard to have an earphone that sticks to our ear when we constantly move, especially if we are sweating a lot. I use Philips earphone and while it still slip if I am doing work, I am quite satisfied with the sound produced by the device.

• United States
6 Jan 10
i found these at wal mart they were probly like 20ish. sony (i believe, the label has worn away) earbuds that have squishy ends like earplugs. they stay in when i run and actually sound real nice. they come in all different colors too.

• United States
6 Jan 10
Ah, I wish I could help you but I'm searching for the same thing. I will never understand why those little ear buds come standard with iPods. Does the average person like them? Really? lol Those types never stay in my ears and when they do, I can't stop being conscious of them/they irritate me.

• Canada
5 Jan 10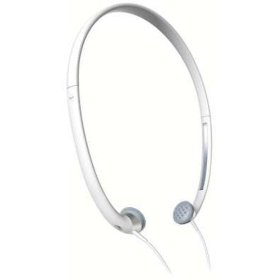 The only time I ever really use headphones is when I mow the lawn and I have never been able to use ear buds, even just sitting quietly they won't stay in my ears. I picked up a set from Walmart for maybe $10 that are basically ear buds on a head band so they do go into your ears but are also secured by the head band. I can't say how they would be for working out in the gym but for working out in the yard they're great. This is sorta what they look like.