Billboards --- should these be regulated?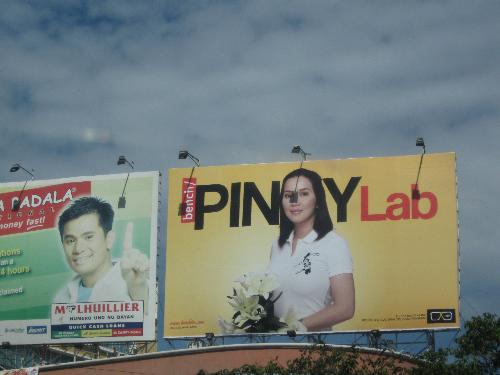 Philippines
January 23, 2010 7:49am CST
Billboards are either huge or small, in bright or dull colors, flashy or with neon lights etc. They appear in different ways to attract the public with their ads. They are placed anywhere. Very big billboards are purposely disregarding the danger and risks that are borne with its size thereby obstructing a good view while traveling. Do you think these billboards should be regulated as to the acceptable size and other standards? Why or why not?
10 responses

• Pamplona, Spain
26 Jan 10
Hiya MMT, Billboards are being made smaller and they use the Japanese style of adverts too in Madrid on the Buildings in the Centre and also in Barcelona. I have not seen them personally but on the Television yes they look quite nice actually.

• Philippines
27 Jan 10
Hi LAI, That is nice where you are. I wish we have that kind of billboards here, too. Thanks!


• Philippines
6 Feb 10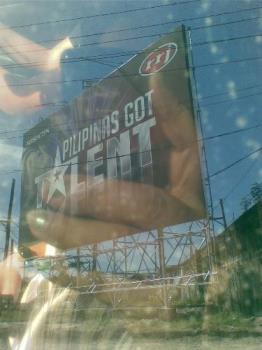 Hi LAI, It is the same way here. Most of the billboards are in the cities and only very very few in the provinces, if there is any.

• Pamplona, Spain
8 Feb 10
Hiya MMT, Two Days ago I went past a place where they had put publicity in their front windows really quite original they stood out a mile without any flashing lights or anything just figures could not take a photo as I had not got my Camera with me at the time.


• Philippines
24 Jan 10
yeah, especially those located near the road and above the household residents. Since it pose risk against the people residents of the place where it is install. They should be put only in a designated place where it would risk no harm especially during typhoon.

• Puerto Rico
23 Jan 10
I believe that billboards can be very distracting. They should be regulated and not so big that it can be distracting to the drivers. Its very dangerous especially the billboards with the flashing lights. They also take away from the scenery while driving. There ought to be a law.

• Philippines
24 Jan 10
Hi Lelin, They can be distracting, yes. With the huge billboards, one's attention can easily be caught. Those with flashing lights are dangerous, especially on darker areas where these are the only ones very visible. They are risks during typhoons, too. The last typhoons that we had toppled down these billboards and hit people.

• United States
23 Jan 10
Yes, billboards should be regulated.I would be happy if they were outlawed.In the city, they are distracting. In the country, they simply clutter up the landscape. I would especially like to see done away with are those digital sign boards that flash a message, then, flash another message before the first one can be read completely.

• Philippines
24 Jan 10
Hi Bellis, I agree that these should be regulated. We just find them anywhere and in all different sizes and designs. They compete with one another to catch everyone's attention. I personally think that the billboards that flash digital messages are more risky. People's attention is easily drawn to them and they read it. This would surely be risky for drivers because alertness and concentration are surely decreased, if not totally distracted and diminished.

•
23 Jan 10
Hi! yes, I think they should be regulated, but not only for the size, but also for the places they should appear and for the density they are placed. That what I mean is, that billboards are very dangerous on road, if there are a lot of them, and they are especially dangerous with the drivers with less experience behind the wheel. The billboard disperse the drivers, so that they can crash and if there are about 5 billboards on a 1 km segment of the road, I think it will be very dangerous. Also they are too dangerous in some case, when an accident happens, because the car hits the billboard and the chances of the victims to survive are very low. and if there is no billboard they just will drive and stop somewhere on the field So that's why i think billboards should be regulated!

• Indonesia
23 Jan 10
Yes, of course... i think even billboard. there should be some regulation to control the uses of billboard. so, that the uses of billboard does not against/break the publics/ other peoples rights, enviroment and society.

• Philippines
23 Jan 10
Hi Agoenxz, Exactly. The building owners should keep in mind the danger and risks that these huge billboards bring. Some may have been driven by thoughts of big money they get out from renting these big spaces.

• India
23 Jan 10
well not all billboards but some billboards which are in the main centre where huge traffic is there there such boards could be regulated where there is a high risk of accidents

• Philippines
23 Jan 10
Hi Vijayanandp, Yes, the very huge ones should be. They pose as great risks of accidents especially during typhoons. We have had these similar accidents in the past where people and vehicles were hit by toppled huge billboards.

• Philippines
23 Jan 10
hello moneymaking, I guess the government has had implemented some rules regarding these billboards. The first thing is...the sexy models,and,i think it's really implemented now. I haven't seen sexy models posted on huge billboards(with skimpy suits) Regarding the lightings...i think,there's also limit with spotlights or brightness with billboards now,since,it caused so much accidents with the motorists for these past days. But,i think there is one good thing about these billboards. Those ones being placed on provincial roads,outside metros were of great help to give light and make the road visible for the travelers,esp those road that doesn't have street lights. So,i guess,it would be better if they place most billboards to provincial roads rather than posting it to metros. Anyway,metro people are much aware of those products being posted on. And these billboards are just making the roads too risky for motorists here in metro.And even with bystanders and residential where some billboards were placed on. Have a good day always and happy weekend too


• India
23 Jan 10
i think.. 'this billboards should nt be regulated.. as theese create a lot of problem

• Philippines
23 Jan 10
HI Vineetkotnala, Am I of the understanding that these should, after all, be regulated as these create a lot of problem? I seem to be confused with what you are saying. Surely very huge billboards sometimes cause accidents. This happens when they block a driver's view or when these already distract the driver's attention from driving. They would surely create lots of problem when accidents happen.

• Philippines
7 Mar 10
Yes, i agree, billboards should be regulated, they also reflect bright lights at night that it is so dangerous for motorists. There should be proper places and proper sizes for these billboards. I hope the government should look into these again because this has been an issue before.