How I wish I was a penguin ...

United States
February 4, 2010 11:40pm CST
A little bit of a storm outside, with significant showers (not really rain) but there are gusts that just go through one's clothes causing major shivers. And the light rail stops here do nothing to protect anyone from such weather, unless you're the lucky couple that fit on the wind-protected side of the ticket machine. It occurred to me that if we were penguins there would be nothing to stop us from gathering ourselves in a huddle to protect ourselves from the cold. Isn't that kind of ridiculous, everyone shivering when the solution is so simple. Then again, one of us were screaming obscenities to some imaginary person, berating one for some moral indignation. I wonder what the penguins do if they have such an individual in their group, if they allow that one to be warm with them, or just do what we do, stand around separately and doing our best to pretend it isn't happening.
1 response

• China
5 Feb 10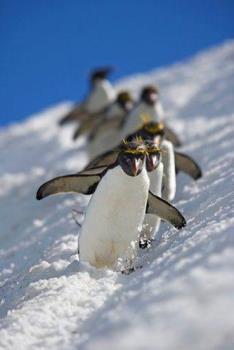 I love Penguin! They are just so adorable! I think they are the cutest culture in the world. I wish i have enough money and time to visit them some day. Their living style is just so awasome! I think we all envy those who has different life then us. Sometimes, i wish i can be a zebra,haha