Go Russia!

United States
3 responses

• Canada
10 Feb 10
I think we've all grown up from having negative impressions for Russians. I don't see it as un-patriotic. It just so happen that the most exciting hockey players right now come from Russia. Just imagine Ovie, and Malkin, and Semin, and Kovalchuk in one team!

For die hard hockey fans like us, our affiliations go beyond the crest in front of the jerseys. It also include the names at back!

• United States
10 Feb 10
I was lucky, I never saw the Russians as the enemy just great competitors. the line you mentioned makes my mouth water! The Russians are coming , The Russians are Coming!

• United States
11 Feb 10
You're a patriot with the hots for ovie..no one can hold that against you. If they do they will have to put me on trial too. I'm going with team Canada, we've got 8 wings going to the olympics and they are scattered everywhere, I put their names in a hat and picked one..LOL..Actually I figure if Babcock can win, then it will be a good omen for the remainder of my wings' season.

• United States
11 Feb 10
You got Canada and I'll root for Sweden for Zetterberg and Lindstrom.

• Canada
11 Feb 10
Well I'm Canadian, and we invented Hockey, so it would be pretty hard to tear me away from rooting for the Canadian team...however, if the Russian guy has a nice THICK RUSSIAN ACCENT, I might change my mind! tehehe Just ask my hubby, I have a thing for Russian accents. Nothing sexier than a Russian accent...OK maybe a Croatian one. do the Croatians have a hockey team? LOL No, you're not being unpatriotic at all. Root for the team you want, regardless of what other people think.

• United States
11 Feb 10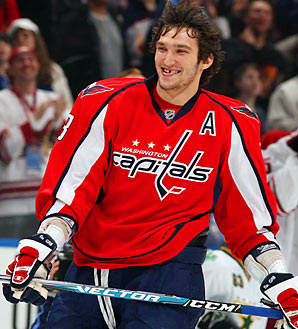 Da, He has a Russian Accent, He is just getting fluent in English. I don't know if Croatia has a team. Thanks for the support. Ovie is the most exciting player I have seen since Great One.Anyway here's his picture. I'm sorry I don't have a way for you to hear his voice. wait a minute, he may have an interview on You Tube!