The Perfect Valentine's Day Gift

United States
February 11, 2010 7:44am CST
After my last post I thought there wasn't anything From a store I would want but I was wrong I would love a Vermont Teddy Bear. I just saw their commerical and they have a teddy bear with a t-shirt with " I Love Sarah" on it. It is soo cute. So I stand corrected. forget the flowers , forget about the candy , a stuffed animal is best for me. Question what is the "perfect" gift for you?
5 responses

• Canada
14 Feb 10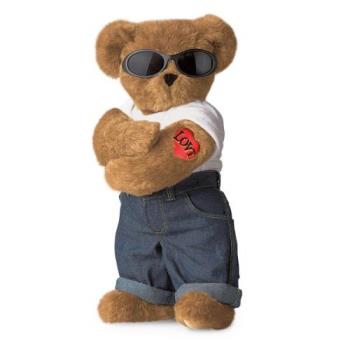 I would have to go with jewels49 up there, I would also like jersey. Maybe a Ryan Kesler, 17 jersey or an Alex Burrows, 14 jersey. To make it perfect, I wouldn't want it to be bought from a store. Instead make it signed, and game-worn. I could't give you a real one Sarah. Hope this will do.


• United States
14 Feb 10
Oh Bounce Thank you! He's perfect! Happy Valentine's Day!

• India
11 Feb 10
For me - spending quality time with my valentine would be the best gift as my life is busy with office work. All other things will not make me as happy as my partners happiness - this is another gift I would love to get. Love yourself and spread happiness :)

• United States
11 Feb 10
I'm trying. Feb14th is a Sunday, I hope you don't have to work so you can spend all day with your love.

• United States
11 Feb 10
If forced to pick something I would want from a store, I would have to go with a Lidstrom jersey..it's one I don't have. I have one of his t-shirts but no jersey. The bear sounds cute and sounds like it was made with you in mind.

• United States
11 Feb 10
Yes! I looked up and said OMG! I love it! A woman after my own heart! Lidstrom's jersey sounds great. I wanted Shanny's jersey but I got a small teddy bear with Shanny's number instead! But thinking back I prefer my bear.

• Delhi, India
14 Feb 10
Hi Sarah! Please enjoy your day with Teddy, if you have already got the gift, it will give you lots of comfort and company.

. I think if you give me a choice of selecting any material gifts, I would go with a bunch of red roses.


Deepak

• Canada
16 Feb 10
Chocolate from my favourite store is great for me. There is a really nice chocolate store downtown that sells the best chocolate in North America, and my husband and I absolutely love it. We both bought eachother chocolate from that store for Valentine's Day, and we were both very happy with our gifts.