Boston here I come!

United States
March 9, 2010 2:02pm CST
Hey guys. Every year my best friend and I take one "nice vacation" in 2008 we actually took two. We went to New Orleans on memorial day weekend, and had a blast. The we went to Oklahoma for the fourth of July. (we didn't count this as vacation but we had a blast shooting fireworks out in the country) We went to Indianapolis in September of 08. March of 09 we drove out to Destin Florida. I had been to all these places, he hadn't been to any. This year we are flying! We are traveling to Boston. Neither one of us have visited Boston. We will only have about 3 1/2 days, but I am really excited, and would love to know what you guys think we should visit. We of course have heard about Quincy market and the Freedom trail. We will be using the mass transit system for our visit. Please let me know what you think is a MUST see in Boston!!! Thanks for your help!
3 responses

• Norway
9 Mar 10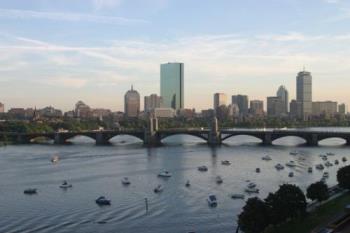 I was there some years ago with a lot of friends. The first day we walked parts of the Freedom trail, and then when the rest of the group showed up we saw everything once more on one of the Duck tours. It was OK though, as it took us out into the river too. Just driving out into the river was funny. I don't think they're on all year, but if they're running they are worth the time and money. If you like cannoli, I recommend a place called Maria's pastry. They had the best cannoli I ever tasted, and a lot of really, really nice pastry. Afterwards we had pizza in the Italian quarter, and then we bought a box of pastry and brought back to the rest of the group :-) Went to see the Lord of the Rings exhibition, but I don't think it's there anymore.

• United States
9 Mar 10
I have seen lots of things on the duck tours. It was worth it huh? I have never had cannoli, but I may have to check out Maria's pastry, sounds like it is worth it. Did you get a chance to go into Chinatown too?

• Norway
10 Mar 10
No, I was only there for three days. One day walking around + Italian quarter, one day duck tour and lots of talking, and one day for the Lord of the Rings exhibition. All of us are so geeky we needed a day :-) Went for a stroll along the river afterwards, so we could eat more pastry ... I really liked that you can actually walk around in Boston, the other big US cities I've been to haven't really been good for walking.

• United States
10 Mar 10
What was your favorite thing about walking around Boston? What was the most impressive stop on the walking tour


• United States
9 Mar 10
Hi amybrezik, I very recently took a four day trip to Boston to see family members and I had a blast. If you are over 21, I would strongly suggest visiting the Sam Adams brewrey in Jamacia Plains. They have directions on their web site how to get there by the "T" (metro). There are also lots of famous universities that you can visit or pass by to see (Harvard, MIT, Emerson, BU etc.), many of them have very unique buildings and great places to eat nearby. Checking out the government center is worth the time, as it features some pretty nice buildings and landmarks and is close to many other attractions such as the aquarium and financial district. While I was there I saw the Blue Man group show. Very fun if you have never been. If do decide to go to see any shows in the theatre district (also a nice area), be sure to stop by a BosTix booth (one near goverment center) for half price seats! You can see much of what I've mentioned in only one day too, so I'm sure you will have plenty of time to see what the city has to offer. Have fun!

• United States
9 Mar 10
Thank you for the info! I saw a little bit about the Sam Adams tour and was certianly thinking about doing that. The reviews I read from other travelers seem to say it was worth the time. Is the aquarium different then other aquariums. I love aquariums but am hesitant to spend a lot of money since they all seem to be pretty similar. Thanks for the tip on the Bostix booth!

• United States
9 Mar 10
No problem, although I did not end up going to the aquarium, (costs around $20 a head - quite a heavy fee) it did look better/different than a regular one. Whales, seals and sharks were some of the highlights on its website (New England Aquarium I believe the name is). The science museum up there is also supposed to be quite nice if you run into bad weather and want to do something unique (not terribly cheap though, but perhaps worth it if its dreadful outside. The Sam Adams was well worth the trip in my opinion, its free and you even get a 7 oz. Sam Adams drinking glass for your visit, along with the ability to try three different types! If you want a Sam Adams experience and do not make it to the place, be on the lookout for Sam Adam's Brick Red brew, exclusive to the Boston area!

• United States
9 Mar 10
Most aquariums seem to be high priced like that. The one here in Dallas is pricey too. I am really interested in the history of Boston. I think that for sure I will check out the Sam Adams tour for sure. Can you get the Sam Adam's Brick Red Brew at any bar in the Boston area?

• United Kingdom
10 Mar 10
I hope that you will have a lovely time in Boston. I suggest you have a day trip to the coast. You might wish to do lots of shopping in the center. It is meant to be a really amazing city that is really enjoyable. I will be in Canada from mid June and until early July. I wish that I could pop down to the USA on 4th July. That is my birthday and I know that I would really enjoy the fireworks. Seattle is only a short distance from Vancouver. I haven't got a machine readable passport so I would have to get a new passport or obtain a visa to go to the USA I think.