Lexie's mohawk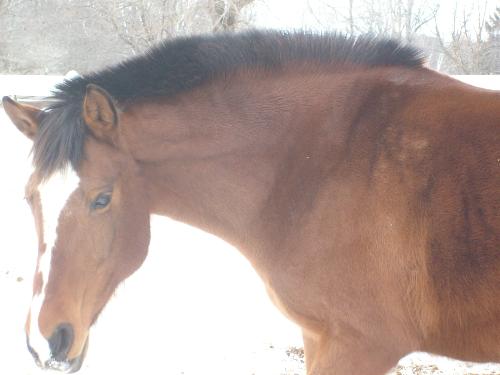 United States
March 18, 2010 1:16pm CST
This Lexie. Right now she has a mohawk! Her owner can't make her mane lay down on one side of her neck. So her owner roaches her mane! As you can see Lexie needs a hair cut! I expect her owner to give her a hair cut anyday now!
4 responses

•
3 Jun 10
I bought my horse from my old instructor who had the horrible habit of roaching (or as we call it in England "hogging") all of her cobs. Because she did it for so long his mane would never grow out properly no matter WHAT I did, and I usually just roached it again when I clipped him in the winter. Now I let it grow out and although it looks crazy and definitely doesn't lie flat, he's retired so I don't care so much. But yeah, BAD habit to break!

• United States
6 Jun 10
It is a bad habit and I know Lexie's owner will not stop! Not long after this photo was taken Lexie had her mane roached again! Ah! I wish she'd leave Lexie's mane alone!


• United States
21 Mar 10
Lexie's mane kind od reminds me of the Fjord's mane! Their manes are trimmed to stand up! Anyway I see alot of horses with manes on both sides of their neck. I see nothing wrong with it but Lexie's mom hated that style! She had tried alot of things to get it to stay on one side but nothing works. That is why she roaches it!

• Norway
18 Mar 10
I don't see the problem with having the mane hanging down on both sides. My horse has most of his on one side, and just the lower 3 cm or so is on the other, but I don't think I would have bothered with trying to get it over on one side. I'd just braid if for competitions, then noone can see which side it's hanging to. :-)

• United States
21 Mar 10
Lexie's owners are unique in their own special way! Lexie's mom just like things a certain ways! It is her way or none! I wouldn't mind a horse with it's mane on both sides! I see alot of horses like that! Luckily my horse had a thin mane and it laid on one side with no problem!

• United States
18 Mar 10
Lexie is a cutie; but it is a shame that they are having to roach her mane. Have they tried banding it to make it lay flat? I had a halter horse a few years back that had the "wild mane" syndorome and we were able to train it to lay by banding. It does take some time to do the banding and they have to be changed out about once a week but it works. Now he has a cuttting horse mane so it will lay flat becuase it is so long; but this helps to keep the flies off his neck so we don't mind.

• United States
21 Mar 10
I know Lexie's mom has tried braiding and other things to work to get get the mane to lay down. What she tried I'm not sure. When I see her again I'll bring up the banding.