what's your reaction if you are the news presenter?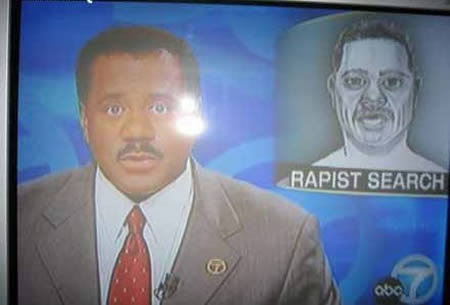 Malaysia
March 31, 2010 10:26pm CST
i know this picture is very old and many have seen it a lot of times.

i just want to know if you were the news presenter and things like this happens while you are presenting the news.

what's your immediate response to it? can you still continue to present the news? do you think it would be the most embarrassing moment for you? i think i would be a little shock (of course if i know i never done it) but continue presenting the news as if the picture does not look like me.

6 responses

• United States
1 Apr 10
A little? I had not seen this photo before, however, although I do not watch much TV, I do recall having actually seen that segment live and the newscaster did a great job of keeping his composure. Looks like maybe the police sketch artist had watched the evening news the night before!

• Malaysia
1 Apr 10
oh really? i did not watch the live telecast and i just have this picture to judge. i wonder whether there were someone calls the police and said that he/she found the person = newcaster.


• United States
1 Apr 10
I never followed through to see if they caught the real suspect and what he actually looked like. When I saw the news though, at first I thought it might have been a prank that someone in the studio pulled on the newscaster, but that would have been just vicious.

• Malaysia
1 Apr 10
can you recall whether you saw the news on 1st of april (like today)?

an april fool prank/joke?



• Singapore
2 Apr 10
If i'm the news presenter, i have to be very professional and continue with my presentations.. BUt if i'm a funky presenter, maybe i will shift my attention to that picture instead, and be talking about it, using as focal point.. haha =D Trying to link up the picture to whatever i'm presenting at the moment.. haha =D Though complaints might come in, but will make sure compliments is much more than complains.. lol =D

• Malaysia
2 Apr 10
for example? how are you trying to link up the picture to whatever you are presenting at the moment? are you going to say that the picture looks like you and really is you?




• Malaysia
2 Apr 10
great, on one hand you are asking the rapist to surrender himself, and on the other hand you are awarding prize for yourself (if people insist that the image looks like you)!

unfortunately, there is a word saying
rapist search
below the picture.




• Malaysia
1 Apr 10
yeah, but as a professional newscaster, i don't think we can add humour even after presenting the news. at least that's what i think.

from the sketch itself, they look very much alike. but as from the respondent above said, the real criminal does not look the same. maybe the victim was influenced by her favourite television news and accidentally imagined the newscaster?


• Boise, Idaho
1 Apr 10
I would have to try to be professional and do my job and then react to it. Professionalism in all jobs is very important. It could prove most embarrassing but you have to do your job. And......the show does go on. It could be alot worse I am thinking. But I think I could handle it.

• Malaysia
2 Apr 10
i think if we were there as the news presenter, we would not realize the similarities. but if we watch the playback again or a photo like this, it really looks very much alike (although not perfectly same).

it's great that you believe and know that you could handle it.


• Boise, Idaho
2 Apr 10

• India
1 Apr 10
I think seriousness is must on your face.. and also a low smile should be on face.. if you going to present any news.. what you say.. have a nice day and keep mylotting always..


• Malaysia
1 Apr 10
no, that is not what i mean.

try you enlarge the picture attached, then imagine you are the news presenter. don't you feel embarrassed because you look alike with the wanted person on screen? furthermore, the picture is just beside the news presenter for the world to see and judge!