I won $1000!!!!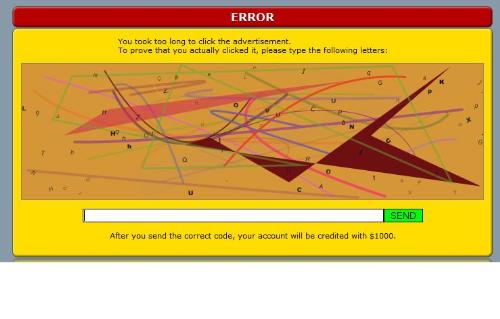 Philippines
April 1, 2010 2:01pm CST
Oh well that's what I thought! lol. I know a lot of you have encountered the Neobux Special Offer but I guess I am one of those very few who came as far as actually clicking the friggin red button (which turned into smiley,etc face)..YES!!! I was able to click it after billions of trials!!! I attached the picture of the page which I got redirected to... i really thought I was only a few steps and a few seconds away from my $1000!!! i got confused when the captcha had millions of letters which I had to enter..argh..glad i was able to notice the url of that page which was http://www.neobux.com/april1st/ before i thought of contacting Neobux and demand for my prize lol.. so bye bye $1000 for me :( any one else who was as lucky (or as foolish) as me to actually keep on clicking and reach that friggin page??? I hope Neobux awards me with that amount if I were the only one who reached the captcha page lol
7 responses


• India
8 May 12
I am not exactly clear- whether you were about to win that amount? or were there any pre-conditions applied?

• France
2 Apr 10
HELLO friends This site all the people know my brother alone, even participated in, but I'm not appreciate a lot. Beautiful day


• Indonesia
2 Apr 10
Wow, i don't believe... that's just april fool.. And then did you receive your reward?? I want some from that prize lol :D


• Garden Grove, California
1 Apr 10
hi calai618 I take it the whole thing was an elaborate joke for April fool's day. what a bummer, wouldhave been nice if it had been for real.well easy come, easy go as the saying goes, there went your thousand bucks but still you arent any worse off. he he