Saved Lawn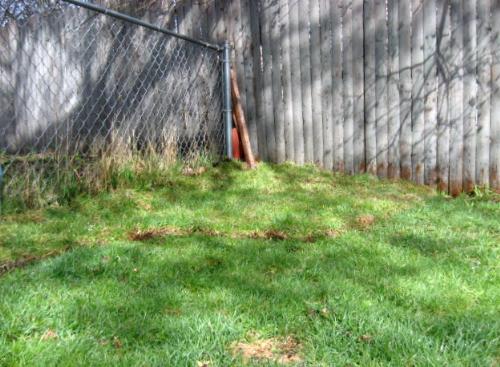 United States
April 10, 2010 4:25pm CST
This is a photo of an area that my lawn pieces were laid. After digging the new garden plot, I saved the lawn sections & used them to cover an area in the back yard that Buster has demolished. It's his area to sit & watch for the wild critters. I dig an area about 1 foot by 1 foot square then clean the dirt from it then lay that piece in the area. Pat it down by walking on it, then water it real well. This is not sod, just lawn/grass. Have you resodded or relawned your area(s) at all? As always..... HAPPY POSTINGS FROM GRANDPA BOB!!~
4 responses

•
11 Apr 10
There is one circular area in the middle of our lawn, which may have been a small pond. but when we moved in in feb 95, it was just a bare circle of earth surrounded by stones. I had bought some plants from my previous house, one of which was a pressie from my mother in law. i planted that and then discovered when it grew it was a mass of white blossom and then following on from that there was a mass of bluebells which suddenly appeared round its base. This went on for about 12/13 years then because this little round area was blocking some parts of the garden, ( my husband loves his garden furniture and his gazebo )we dug everything up, ( i replanted the bluebells and mum in laws plant elsewhere) we threw down some grass seed and thought no more about it. Amazingly this new plot of grass is a darker green than the rest, weed free and much thicker than the rest of the lawn. the grass also grows a lot quicker than the rest so it looks (haha) like a fairy circle. The thing is, my cats think its great and i am always bawling at them for squatting in their 'magic ' circle.

They ignore me of course !!


•
15 Jun 10
thank you grandpa bob for best response. we have had a lot of rain so far this year and the garden is thriving, plus my round green'magic ' circle. as well as christening that , my cats have discovered a nice wheelbarrow that i grow my some of tomatoes in each year, i have had the charming job of cleaning it out. lets hope the tomatoes appreciate the fresh earth. they seem to be thriving any way


• United States
11 Apr 10
Unlike you, I'm trying to destroy some of my lawn! I want to expand my garden area and need to kill the grass but it has been too windy to use the sprayer to lay down the grass killer. That's a great idea you had, and a real money saver! I might try it myself and lay it down outside the fence where there's mostly weeds. My dogs don't really demolish the yard but they do have paths beaten down to their regular spots that I think look pretty cute.

• United States
10 Apr 10
Interesting you did this, because I thought I was the only person to do that..lol And I was amazed it worked...


• St. Catharines, Ontario
10 Apr 10
Mostly, I'm just getting rid of grass...