How do you celebrate festivals? Is it a bonding moment for you?

India
April 24, 2010 1:45am CST
Dear friends, How do you celebrate the important festivals in your place?

Preparing special dishes, and after having the food then an outing with family. Is it the way of celebrating a festival, no way, isn't it? It is the time for remembering or recalling our dear and near ones who stays away from us. If those are living near to us then we can visit them and if they are staying away we can get in touch with them through phones. Offering prayers to GOD is an important part of every festival. Last week we celebrated the south Indian New Year, Vishu

(Last year I started one topic about this and explained the details too). We visited temple, seen Kani (first sight), get in touch with dear and near ones and conveyed our wishes to them, prepared sweet dishes etc. How you people are celebrating festival? Is it the same or anything difference? What is the important festival of yours? Please share.

11 responses

• Boston, Massachusetts
24 Apr 10
i Sree, In the province we really prepared for any festivals. We prepare the house, cook several dishes and invite our friends and relatives to celebrate with us. But since i now in the city, we seldom celebrate festivals. we only go to church for thanksgiving!

• India
28 Apr 10
Hi Winky,

I can understand dear, we can't celebrate the festival the way we do it in our native place. I am preparing everything so that my kids will also learn about it. Secondly my mother in law is worrying about us, if there is any festival and she is concerned on my kids whether they are enjoying the festival or not etc. so I don't want to make her feel bad and I prepare everything like our native and make a call to her and inform that, nothing to worry we are also celebrating the festival well and enjoying. Otherwise she may spoil her day on worrying about us. A thanks giving to the Almighty is also important which may be the first thing on the special day. Thank you very much dear

, have a nice day.


• Boston, Massachusetts
3 May 10
i miss the province celebration of any festivities. how i wish i can go home one of this days to experience again exciting and fun celebrations of these festivals of course with my family. i love it seeing them enjoying our culture and practices.

• India
3 May 10
Visiting the province at the time of festival is good but I don't know about your kid's school and their vacation etc. For me, the festivals we are celebrating in our native are not celebrating the place where we reside now. So we don't get holidays for school at the time of our festivals we can't think about the vacation on our festival time. We are visiting the place at the time of summer vacation of my son, every year. Just missing all wonderful moments, now the kids and their education is more important.




• Malaysia
24 Apr 10
Hi Sree, the most important festival cerebrated in the Chinese society here is the grand Chinese new year. It's the first day of the Chinese lunar calendar. This festival is celebrated from the new year eve til the 15th day. Nowadays people are busy with their daily life which is very much from earlier. Therefore it's simplified a lot. New year eve is the family reunion day. Chines people regard this as the grandest day of Chinese New Year. All the family members try their best to get back to their home town from all over the place where they study or working. All the Chinese family have their respective reunion dinner either in their own house or in the restaurant. It's so nice to have this great reunion day to provide the opportunity to let all the family members to meet one another happily once in a year. This kids go to bed late in the wee hours as we believe this will bring fortune to the elderly and prolong the life of the life of the parents as well. We take morning bath and put on new clothes to welcome the festival. Married people will give red packet with money in it to the single young and kids. Many people go to worship in the temple and make wishes. It's also a good day for people to visit and to entertain relative friends. The most happy people are kids as they can receive many red packets from elderly. Yeah, many thing have changed during this modern day, and people will go back to work as usual beginning from the third day. And this depends on how long their leave or vacation is. The 6th day is man-day. Chines believe that this is the birthday of all human. Fish is the essential dish to take in this day. We usually celebrate this day eating tiny pieces of fresh flesh of fish mixed with colorful ingredients of vegetable, etc. It's believed that celebrating in this way will bring health and wealth to us

The 15th day and also the last day of the festival is our valentine day. Single females throw oranges with phone no on it in the water where there is ceremony taking place there. Unmarried men can fish up the fruit and contact the girl via phone number. Hopefully they don't meet the wrong person

Besides there are hundreds of interesting riddles displayed on the beautiful lanterns for people to guess. Prices will given to the persons who have got the right answers. Really interesting eh.....Some temples and societies here hold this ceremony annually. Take care dear and happy posting


• India
24 Apr 10
Hi dear, Yes dear, really interesting to read and I just guessing how much fun you have on your festival. I like the valentine celebrations the most

. The family reunion is great and in our state it happens at the time of Onam, which is a harvest festival. People are visiting their dear and near ones. We simply missing this festival as it fall in the month of August- September. (here in this place that festival is not celebrating so there is no holiday for school). Thank you so much for giving a beautiful narration about your festival and I really enjoyed it and learnt something about your custom too.

Take care and have a great weekend. Please enjoy.


• Malaysia
25 Apr 10
Thanks for sharing briefly how the people in your place celebrate the festival Vishu thumbup in your place again in the description of your discussion. I hope I did participate in the mentioned discussion last year as well

Really, it's quite difficult to get time to celebrate the festival if there is no holidays for school. The students here can enjoy at least 5 days of new year holidays, sometimes even more than that. It depends on what the first day of the chinese year is. Kids will enjoy another extra two days of school holiday if the new year eve falls on Friday. Other than the two festive official holidays the school authorities can apply for another two more days. If I'm not mistaken I did mention in Buchi's discussion related to sugar recently, about people here celebrating the 9th new year day using sugar cane. There are yet lots of interesting stories about chines new year. I think you do have lots of attractive stories about the festivals in your place as well

Wish you and yours a happy Sunday


• India
27 Apr 10
Yes, you participated in that discussion last year.

. There are lots of stories but now I am facing net problem and power problems so can't do anything with net. Yesterday could not open any post even. Get back to you later. Take care.




• Philippines
26 Apr 10
Hi friend. My religion does not celebrate any festival about god and godessed but there in Baguio City there is the so called flower festival that I so enjoy.It has nothing to do with religion but everything about flowers. That place is 8 hour drive from my place but every year I am making it a point to go there with my family to see that flower festival where different flowers are being paraded on the streets. I do love flowers and it delights me to see different kinds of flowers of various colors and some of them I don't even know the names but they are really very beautiful.


• India
29 Apr 10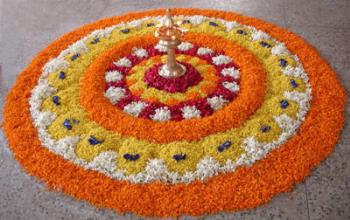 Hi Salonga, Flowers are always beautiful dear. If it is kept together in a place it will delight us more. Flowers are related with one of our festival, courtyard is decorating with different flowers for ten days (which is called 'pookalam' in our language). I am adding an image for you. Thanks and have a nice time.



• Philippines
30 Apr 10
I thought it was a pizza pie from afar but as I enlarged the image I was really so impressed. It is really beautiful! How creative! And the colors are perfectly blended too. Nice one!


• India
25 Apr 10
Hi Sree I think all hindus observe the festivals like you, i am from Orissa, but my fore fathers came here from Chattisgarh, so we observe festivals of both states. my city has so many temples, the most famous is Samlesari temple, my city is named based on name of this goddess..our main festival is Diwali and Dussera, but every month we have this and that.. This makes the hindus unique..

Thank you so much for this nice discussion, cheers

God bless you.

Prof

• India
29 Apr 10
Hello Sir, It means you are familiar with the festivals of both states. Yes, Deepwali and Dusherra are common festival among different states. There is a huge difference in celebrating the same festival. Dusherra is celebrating in North by making the statute of Ravana and his brother then set fire in the evening time after the pooja, but in south it is celebrating as Vidyarambh (Start of education) and importance is given to Goddess Saraswathi.

Thank you so much for the participation.

Have a nice time.


•
25 Apr 10
Celebrating festivals is really a bonding for moment for us. Relatives from other places came home to celebrate and have bonding with us. Its fun because we shared lots of experiences that took during the time when we're apart. Well, of course who's gonna miss the foods, its always present. Diets where set aside, eat well, eat more, have fun. But the main attraction of it is to praise God and thank Him for the blessings that we received.

• India
29 Apr 10
Hi jologs, I think the most important part in festival is the reunion with our near and dear ones. Most of us are living apart and festivals are giving a chance to get together and sharing the old stories or experiences etc. Special dishes are making and eating together. Thanks giving to the Almighty is the first thing before starting the celebration. Thank you very much for sharing your views.

Have a nice time.


• India
24 Apr 10
This is a very complicated question for me as I am a Christian and my hubby is a Hindu and being born in Mumbai brought up in a Half Malyali half Sardari locality I was used to celebrating almost all the festivals and that also with the same enthusiam. The only place that I have not visited is the mosque. Festivals where not only bonding with dear and dear ones but also with our neighbours and friends. Oh how I miss those days.

But now that I am in my mid thirties I still would love to celebrate it the way I used to but then nowadays you do not even know who is your neighbour nowadays as people have become so distant from each other and visiting near and dear ones is become scarce as we stay in different states and taking time out the hectic schedule is become very difficult. I wish it changes atleast for the generation after us


• India
29 Apr 10
Hi avani, The question may be complicated but you replied very easily

. Religion is only a belief and we can love and care everybody or join their enthusiasm irrespective of their religion. You can celebrate both Hindu and Christian festivals and I felt it is really great.

I agree with you, staying away from the native place we are not getting enough time to celebrate it well. But we try our best to do with each festival so that our kids also get an opportunity to learn about the celebrations. Have a nice time.


• United Arab Emirates
24 Apr 10
We do celebrate feasts of our Patron Saints in the Philippines since we are largely a christian country, and during these festivities there are carnivals at the plaza's, special programs and processions and while having these families prepare foods andspecial dishes for friends and family who will visit during these occasions.

•
24 Apr 10
hell0 there! the people in my country celebrate teh festivals here in a different way according to that in which part ofthe country they are- for an example people who live in the Southern part of the country celebrate some festivals with more dances, music and fun, in some other regions they celebrate it with more food and drinks, but in every part people wear some traditional clothes, which are actually traditional only for that region. So you ask how I celebrate those festivals- well it really depends on that, what efstival it is exactly. if we celebrate Easter, the first that we do is to paint the eggs( here in my country it is a tradition to paint eggs for Easter and we must do it on the Thursday or Sunday before Easter, because of the tradition. the wemon and the children take part in this innitiative and it is reall fun. the grandmother paint the first egg in red, then put some red color on the foreheads of the children. we paint the eggs in different colors and put different shapes on them. then on Easter the whole family gather together around the table, we "fight" with eggs to see which eggs will be the "winner"- the hardest one :) I really love that holiday very much... The Christmas holidays we celebrate again all together, with only one exception- New year we celebrate with family and friends too :) the preparation is the most excited moment for me, because everyone is running in and out, everybody is searching for something, someone else decorates the rooms, my mom for example is looking for some good recipe, me and my sister decorate the Christmas tree and my father cooks something. it is such an euphory! then it comes the moment( I mean New YEar), everything is ready and we sit on the table, all the dishes are there, we switch the TV on and watch the new year's shows, which are something very funny. we talk about many things, about the past year and what we are going to do in the new one. we also eat alot :) This is how we actually celebrate some of those holidays, and I think that your discussion is really a great one, because we can learn a lot

• Garden Grove, California
24 Apr 10
hi sreekala It is interesting to me to read about your various festivals and try to figure out in comparison what we have as so called festivals here in the United States. For us Christians I think we would call Christmas,celebrating the birth of Christ and Easter celebrating his resurrection of Christ true celebrations. Also the fourth of July

is our sort of American festival as we celebrate the birth of our country The United States of America. I envy you have such wonderful times at your festivals.Sadly our celebration of Christs birth has been replaced in so many peoples minds with the fictitious Santa Claus and a bunch of gifts. Also we have Thanksgiving in November as a day to give thanks for all that we have. we have special meals like we do at Christmas and Easter too. New Years Eve marks a celebration of a brand new year and we have special meals then too.these holidays are special times for bonding with friends and families, and sharing good food. Happy Holidays to you Sreekala.


• India
28 Apr 10
Hi Hatley,

Indians are celebrating different festivals; some are welcoming the seasons of the year, some others celebrating religious occasions, harvest season etc. The festivals are common in all parts of India but it may be called in different names in various parts of the country and celebrated in a different forms. In our native state, which is a south Indian state is also celebrating its festivals in a different way than the other parts of the country. Vishu is only one among them. Onam is the important festival of our state (Kerala) and the specialty of this festival is all people are celebrating the festival irrespective of their religions. Christmas is also celebrating by Indians. I agree Santa got an important role in the celebrations because people are more interested on the gifts given by Santa. Thank you so much and have a nice day.


• India
24 Apr 10
Hi sree, as u celebrate the visu as south indian new year and we too celebrate it as bihu. We have three bihus. The best two are rangali and bhogali. We prepare various cakes, sweets, snacks for it. It is something special for us. U may give a look on my photo titled 'bihu dance'. Thanks.

• India
28 Apr 10
Hi Shibham, Glad to know about your festival, is it falls in the same month and date. I think so because most of the states are celebrating festival on that day in a different way. I have seen the photos of Bihu dance, in our case different form dances may be at the time of Onam, the harvest festival of Kerala. Thank you so much

and have a nice day.