Who made your wedding cake?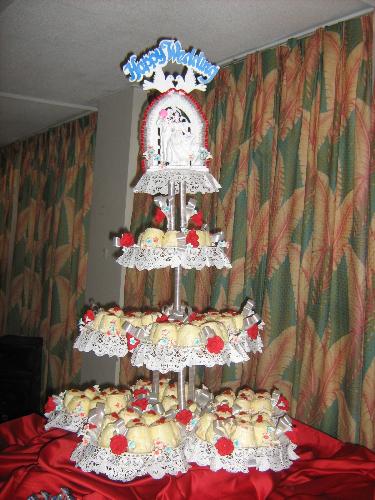 Philippines
May 1, 2010 4:17am CST
Wedding preparation isn't easy. You have to think of so many things and make sure everything will do as planned. Having a wedding planner lessens the preparation stress but if you are in some budget constraints, you might want to do some effort to make the event memorable even with a low budget. It is possible to ask friends to prepare things for you. In my case, my friends and family helped a lot. It was a civil wedding so we didn't want to spend a lot on it. We were thinking that we will still have to spend for our church wedding soon so we just have to save our money to spend for the church wedding. However, we wanted our civil wedding to be nice also. My husband and I did some planning and our friends helped in the program and preparations. Our wedding cake was simple, showing our motiff: red, white and blue. We prepared the cake stand and bought the cake decors from a store which specializes in cake-making. The decorated cake stand was brought to the reception site by my family. We didn't bake the cake. We ordered some mini cakes from my favorite bakery. My cousins arranged the mini cakes in the decorated cake stand. We are so proud of our piece of art. I hope you will like the picture that I posted together with this discussion. We only spent PhP 1,750.00 for this cake. Isn't it amazing? Did you make your own wedding cake to? If not, who made your wedding cake?
4 responses

•
6 May 10
I made my own wedding cake, I have made many in my life - I made all but one of my daughters (the reason for the other will come later) When my eldest daughter became interested in making cakes I gave her all my equipment and she has taken over from me (it was her who made my youngest daughters wedding cake), she has built up quite a business. Although of no use to American reader please do take a look at her website - I love to show off her wonderful talents..http://www.cakedesignsbyhelen.co.uk/

• Philippines
7 May 10
I just checked the link that you posted. I can tell that your daughter is very talented. Congratulations. All the cakes are amazing. Two thumbs up!!!

• Philippines
27 Oct 10
Wow! That's really smart. Wedding cakes cost thousands now and I'm glad for you guys because you've saved a lot of money by preparing your own cake. I will keep this in mind in case I have friends or relatives who are planning to get married. A tip or two from your post will definitely help them. It will also be advantageous if you know how to bake cakes or make cup cakes. It will be fun making your own wedding cake. Though this is kinda late- Best Wishes & Congratulations to you and your better half. Have a good day and happy myLotting! :D

• Philippines
21 Dec 10
True, it is advantageous if you know how to bake cakes. In our case, we couldn't afford to bake cakes anymore because we were very busy with the wedding preparations. I am glad that you found somethinghelpful from my post. Thanks for the wishes and thanks for the response. Happy mylotting:


• Philippines
2 May 10
It's good that you got some help with it. Here in our place, home-baked cakes always taste a lot better than the commercial ones in the bakery.

• United States
1 May 10
I was very fortunate when it came to my wedding cake. A family friend of my future husband's was a baker. She made our wedding cake for us and she did it at no charge. Sge made a special memory fo us that she was a part of and saved a huge wedding expense as well.

• Philippines
1 May 10
You're so lucky to have a friend like that. Thanks for the response & happy mylotting:)