Mother's Day is for my Man!

Boston, Massachusetts
May 7, 2010 10:30pm CST

Yes...you heard it right my dear mylot friends. I would like to thanks my husband for making it possible for me to be a mother. And so i would like to share this special day with him. Without him i will never have Giancarlo and Angelo Miguel in my life. Two precious kids that complete me...my being a woman! To all men out there who's so generous to share their genes with love and passion...you made it possible for your women to be a mom.

CHEERS!

How about you any person you want to spend with and share this day as you celebrate mom's day? anu unique stories of being a mom or a dad-mom for your kids? please share thanks!
10 responses

• Philippines
8 May 10
clap clap clap for this one ms.F. sweet and true, but we have our own celebration this june but it is still sweet to hear a wife dedicating her own mother's day celebration to her husband because without him you wont be a mother and wont be celebrating this day with all the mothers of the world. but not all mothers would do that... specially those who are single moms. happy mothers day to you my friend.

• Boston, Massachusetts
8 May 10
Hi 7th, I am happy that you appreciated the twist i made in celebrating mother's day. of course mom will always be recognized for all the things she made to make me a better person...she never gets tired of taking care of me and looking after my welfare. i tried my best to let mom feel how grateful i am for everything she does for me and my family. now, my hubby completed my womanhood ---having babies courtesy of him hehehe. To all the single moms out there...i know they are still happy that they have a precious one to have even without the culprit! Have a lovely day with your wife tomorrow and always!

• Philippines
8 May 10
tomorrow is for my mother. i dated my wife yesterday already (friday) we went out and had a date ALONE har har har. we had a great time. we ate a lot and talked a lot. last stop was starbucks her favorite plus cakes that can make us both fat. how about you?

• Boston, Massachusetts
8 May 10
hmmmmm sounds a cheezy date. well, you are so lucky to be dating your mom tomorrow. how i wish i can go home to bikol and surprise my mom for her special day. anyway, i am going there on june--my youngest sister's wedding. i will try to make up with my mom.



• Boston, Massachusetts
8 May 10
Hi Whistle, Long time no hear...anyways, thanks for dropping by! Please extend my greetings to your mom. She's great for having a good son in you. THanks too that you appreciated this simple twist i made in celebrating mother's day this year! Surprise your mom...have a happy weekend!

• Boston, Massachusetts
8 May 10
that's good. thanks friend. your mom will surely be happy that your mylot friend is extending a greeting to her. stay healthy and happy.

• United States
22 May 10
This was a very nice thing to do for your man. I could not thank my dog for giving me anything. he left me with a single mother with bills to pay. He gets no thanks from me.

• Boston, Massachusetts
23 May 10
Hi Gifts, Sad to hear that. But don't worry there's more good and great things in life. Just believe and you will surely make it in the near future. how i wish i can give you a hug right now but my prayers will be with you to handle things with your lovechild. happy sunday my dear!

• United States
11 May 10
I would never have thought about Mother's Day in the way that you've done. That really is a beautiful sentiment and a great way to think about Mother's Day. We spent the day at home and didn't really do anything out of the ordinary. I did buy my mother tickets to a concert that is going to be here in town in two weeks for her Mother's Day gift and the two of us will be spending that day together. If it weren't for her I could have never been a mother

• Boston, Massachusetts
15 May 10
Hi Dorann, Thanks for appreciating the way i look at mother's day celebration this year. It's so sweet of you to give your mom a concert ticket for a treat. WE owe our lives to our mom and dad too.

• United States
8 May 10
I don't do any huge celebration of mothers day but my kids always find creative ways to let me know I'm appreciated. I guess I would be a mom-dad too since I'm raising them by myself so that means I get fathers day too! yaay more cake!

• Boston, Massachusetts
9 May 10
Hi Cupkitties, Happy Mother's Day. It's good to know that your kids really love giving you surprises for your special day. their special way to let you feel how important and loved you are. So, expect for another surprise next month as we will be celebrating father's day too. You are simply great mama!

• Lapu-Lapu City, Philippines
8 May 10
i think besides my wife, i can also share this moment with my kids. and i am happy to hear that a wife like you thinks about this celebration not only for you mothers, but also with their husbands. happy mothers' day.

• Boston, Massachusetts
8 May 10
Hi Neil, It's nice to hear that you are not only looking at this celebration for you wife but also for your kids. your wife is lucky enough for having such a loving father to your kids and that means--you are a loving hubby too. Thanks for your greetings friend!

• India
8 May 10
Hi winky, Happy mother's Day to you dear

. Enjoy and celebrate it well with your family.

I am happy to know that you are eagerly waiting for the Day. Have a great weekend too.


• Boston, Massachusetts
8 May 10
Hi Sreee, Yes. We will have a special date tomorrow with the kids. After hearing the mass we will go for a dine out with the kids. thanks for the greetings and happy mother's day to you too! have a lovely day!

• United States
8 May 10
Hi Winky, Happy Mother's Day to you. Whoever came up with the idea to give a special day to mothers and honor them is a genius. He must be one of the most loved persons to date...We should all be proud we're mothers, and we should be grateful to our own mothers too.

• Boston, Massachusetts
8 May 10
Hi Doryvien, Yes, he is truly a genius though our family always make us feel special everyday in our lives but at least there's one day to celebrate it with other moms all over the world. I already made my mom a tribute for a week...in my facebook account. with pride, i made a shoutout about my mom. she will always be my role model of being a great mom. Happy mother's day my friend. Hugs!

•
8 May 10
you are the lucky mom! Happy mother's day to you. As they say, the best gift that a husband or a father can give to his children is loving their mother. Having a good husband and a good father to your children is really awesome. You are the envy of most women and mothers. congratulations again!

• Boston, Massachusetts
8 May 10
Hi Ivy, Thanks for your kind words. I am flattered. I owe it to my mom. She's a good trainer. She's a great mom and my model for what i am now as a mom of my two kids! Have a wonderful weekend friend!

•
8 May 10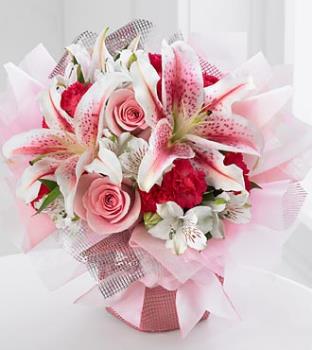 Hello ms Francisco, First I would like to greet you "Happy Mother's day". And congratulations for having your husband who made you a woman of her own, a mother of his kids and a partner of his life.You have that "ideal marriage ever"

. If I given a choice I want to spend "Mother's Day" with my mom but unfortunately I can't.But still I want to thank her for being my mom, thanked her for brought me out in this world, who always there for me during my ups and down.I wanna thank her for myself.

.
Again Happy Mother's Day and praying for happiness always.

Love& Pray, Cloud

• Boston, Massachusetts
8 May 10
Hi Cloud, THanks! You will never exist in this world without your mom and you will never be what you are now without the porper guidance of your mom. she really deserves your love, care and respect. i hope you can find a way to be with her anytime soon.