Our responsibilty towards new myLotters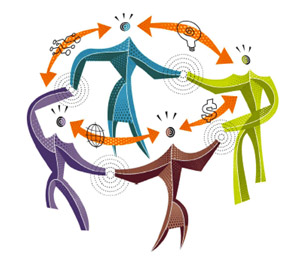 India
May 16, 2010 5:12am CST
Hello friends!! Of course, it includes all myLotters :) I am using this website from last 5 months but not as active as many are .. but yes whenever I get time.. I am here to respond... I am here to start discussion... Now I have decided to be very active on this site again as I had determination at early stage... Lets come to our responsibilities towards to newbies here.... I think, we all should welcome all new myLotters joining here.. As we get first or first 10 to 20 responses.. If we will welcome them and will boost them.. then it will make them determined to work more for the site and they will be easy with our family... myLot... So, it is responsibility of every myLotter that they welcome newcomers here... to make the site better and we can improve our family.. As we welcome a new kid at home same way... we should do here too... What myLotters say and how many of you do that already and how many of you will start from now on? Thanks friends for being part of this wonderful family...
4 responses

• India
16 May 10
I have done something which is good for newbie's .. i browse through new user categories and respond to their discussion and make them happy.. Welcome to mylot !!!

• India
16 May 10
Hello friend!! I really appreciate your efforts to make this site wonderful... As those newbies will be guiding other newbies in future and will learn a lot from us... Thats good spirit!! Thanks for making this community wonderful!! Take care friend!! Have nice time!! Happy myLotting and keep helping newbies!!

• Garden Grove, California
16 May 10
yes chdsandeep we older users do have a responsiblityto help the newcomers and can best do this by responding to their discussions as I remember being new and broken hearted as nobody was responding to my discussions and I know they were not that bad. so I learned to respond a lot to older users and they relized hatley was a good responder and started resonding to my own discussions. I tell new comers that as it was what go me into getting lots of responses . also clue newcomers that it is quality rather than quantity that gets you earnings and friends also. Now my idea may not appeal to newcomers but first think : mylot admins put the information u nder the tab mylot for all new users as well as the rest of us,so

newcomers take time to read all that info as it explains all about and everything about mylot.If you read this you can already stand on your own feet and make great discussions here and have fun too as you will be staying within the rules. Older users can of course answer questions but the questions the newbies ask are most often deleted for the simple reason they did not read the rules of discussions. we all lose when we take time to spell each word out and then our response to you is wasted as it gets deleted with the discussion too.



• India
16 May 10
Hello Hatley Mam!! Happy to know that you are helping newbies. I know you have vast experience on this wonderful site... I am happy that you responded here. I am also waiting for the message response from you. Thanks Mam!! Take care!! Have great time!! Happy myLotting Mam!!

• Canada
18 May 10
Very nice post. This is so important but also for those who get people signing up to MyLot under them. I have ran into several newbie MyLotters, who post simply questions as a discussion, whereas if their up line were more responsible, they would quickly welcome them, advise them of the basic workings of MyLot and be available to them should they have any questions whatsoever. Failing that, it is a great idea to contact newbies, boost their morale all in effort to keeping MyLot the great place that it is. You make some very good points in this discussion and you are right that every MyLot could easily welcome new comers in order to improve our MyLot family, even if those new to MyLot are not signed up under us too. Support and encouragement between members is a great way to keep up the quality that MyLot has to offer but also to promote improving the quality of discussions posted, including frequency. You have some great ideas here that surely ought to be supported. Thank you for your post!

• Eugene, Oregon
16 May 10
I do agree with you, that we all should welcome the new users, as it does let them know that they are appreciated, and we should all help them as much as possible to understand how to make money here. I will help them as much as possible, even though I know that the discussion might possibly be deleted. I have lost many a response because of it, but I certanly will keep trying to help them whenever possible. I was helped when I first came here, and I want to return the favor. Good luck to you and happy mylotting.