Motorcycle - Family enjoyment....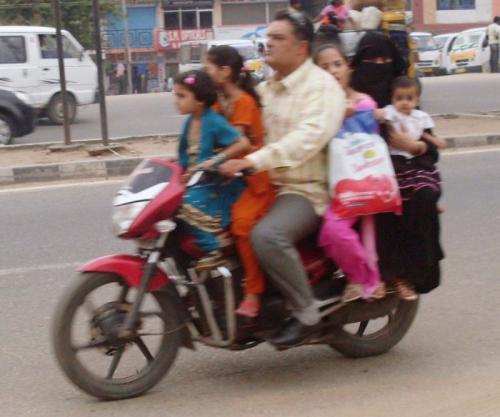 India
May 23, 2010 1:09pm CST
A motorcycle is being designed for two persons comfortably keeping all the precautionary measures in mind. But, I came across a family of 6 members enjoying the ride on the main roads. This is a proof that they are not worried of life's risk. Just see the photograph and share your thoughts. Do people ride a motorcycle in this fashion in your country. Please share your thoughts.
4 responses

• Italy
23 May 10

No they don't! They have more common snse than to do that. No helmets either!

That man would have his license taken aways as soon as he went round the next corner because he is endangering the lives of thise with him and of others on the road too


• India
23 May 10
Thanks for your kind response madam - such rides take place in your country (Italy). People use motorcycle in this fashion risking their lives. You see the whole family is on the risk.Here, no one is bothered. Even the police man does not take action.

• Italy
23 May 10
Supposing that there is an oncoming vehicle. How could he possibly avoid it with so many passengers aboard?


• India
24 May 10
Such people are more clever - they are skilled in driving like this. Every Sunday they go for outing in this fashion. I only sometimes wonder.But as a photographer I really enjoy taking such pictures,to show the society how we are living.


• India
29 May 10
We are living in a negative world.People are leading their lives in a negative way only. Example - do you find any person who extends their rue love from the bottom of their hearts,some how you may come across some one but this will not be a rue love there may be some selfish act behind that. These days people are doing all negative actions - they dare life and attempt doing such acts on the road. How much hard this person would have been handling 6 lives in his hands.

• United States
24 May 10
OMG! no we dont do that stuff here as a motorcycle enthusiast I am appalled by the level of stupidity shown by those people! its against the law for one and for two it goes against logical, rational, thinking that man is an idiot and has no right on a motorcycle!!

• India
24 May 10
Some peoples mind set is different no can suggest these type of people,because they have a standard thought set in their minds. They are not bothered about the consequences they face if they ride a motorcycle like this. To live in this world we need commonsense....but such people no commonsense.


• India
24 May 10
These days we cannot teach any one. Every one poses as if he knows everything. As age passes the maturity level also should increase but there are some cases where this growth is not there. May be because of financial weakness he is pulling on like this.