Chop-chop story!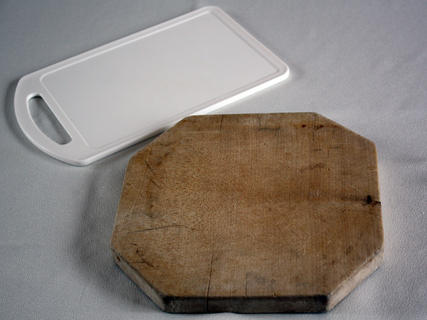 Philippines
May 25, 2010 4:36am CST
Hello mylotters! Do you cook? or at least helps in the kitchen in cutting veggies & meat? or at least you know the utensils used in your kitchen. I do cook & cut the ingredients myself. I use different chopping board for meat & vegetables as well as utensils & it's for hygienic purposes (meats are prone to salmonella thus to prevent veggies to get it thus used a different one)and I do use a plastic one but we do have a wooden one too.There are some who uses only one chopping board,there are those who used wooden board.In your household,do you know what are your kitchen utensils? Do you used a plastic or wooden chopping board? and are you using different chopping board for meat & vegetables? we can share ideas in here mylotters..
2 responses

•
25 May 10
I cook too, and it is a pleasure cooking food which I like to so whenever I have time I just go to the kitchen to prepare something for myself and the family, I like to try new recipes, and yeah my chopping board is that of a wooden one though I have the plastic one at home too. The wooden one is for the vegetables and the plastic one is for the meat.

• Cambridge, England
25 May 10
I use different chopping boards for raw meat and fish, cooked meats and vegetables. I use both wooden and plastic boards. Wood, especially beech and teak, contains natural bactericides and is kind to the knife edge. Plastic chopping boards can now be obtained which claim to contain bactericides. Of course, all boards should be thoroughly washed with a detergent and hot water as soon as possible after use. A good set of knives is a cook's most precious possession and they are very personal. They should be chosen to be comfortable to hold and with good balance but, of course, the most important thing is that they should have and be able to keep a razor-sharp edge. More bad cuts in the kitchen are due to using blunt knives than to a good set of well-honed knives.