Training up a child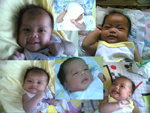 Philippines
June 1, 2010 8:27pm CST
How to train up a child in order for them not to be involved in any types of vices one day? According to King Solomon in the book of Proverbs, "Train up a child in the way he should go, for when he is he shall not depart from it". Either you are a single or married if you have a child how will you train your child?
2 responses

• Philippines
2 Jun 10
You, as a parent will have the ability to train your child to be an obedient and good children, free from vices, if you yourself will set as a good example to them. The formative years of a child say from preschool to grade school, they will usually copy whatever they see in the environment so we have to guide them and talk to them all the time. It is also best to follow up on what they're doing to make sure they do not go to the wrong path. As an example, I always tell my kids that smoking is bad for the health so I do not smoke myself. I am free from vices so I am free to guide them to the right path. Remember to set as a good example that they will follow.

• Canada
2 Jun 10
Hi rbdescartin, We must teach a child by example, but be sure to teach him/her to believe in themselves.Let your child know that they can do or have anything they want if they are willing to work for it. Praise your child every time he does something right and never ever tell her that she's stupid or dumb. Always be honest with your children then they will know that they can trust you and bring their problems to you. Also trust your child to do the right thing, when they know you trust them they will not let you down. Love them unconditionally. Blessings.