Is physical gold a protection against inflation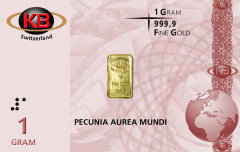 Germany
June 6, 2010 6:23am CST
Over here in Europe people get scared about value of the Euro currency. So they buy 1 g units of physical gold implemented in plastic cards (credit card size).The sellers of such "currency replacements" say, that in case of emergency (inflation, paper money loosing trust) such micro-gold would be accepted to buy food and services like was after World War II when cigarettes were used on the black market as a currency. What do you think? Could I cover in your country my personal needs for food and services when I give 1 g pure gold in exchange? Responses from all countries of this world are appreciated!
10 responses

• India
6 Jun 10
I am not sure about using gold as money. As far as physical gold is concerned, I believe it has something to do with Gold always increasing in values. It does not inflate in the most part, and even if it does, it always bounces back up. With paper money, if the currency lost its value, then it became useless or worth very little. With Gold, you are assured that the value will always be more than when you purchased it.

• Philippines
7 Jun 10
Plus, you can always have it appraised in pawnshops, pawn it and receive paper money in return, which in turn can be used to purchase goods. I think that's one of the securities of owning gold.

• Philippines
7 Jun 10
What about buying real gold but have it stored in faraway storage place like Zurich or New York? I recently joined as an affiliate of a site dealing Gold. The name of the site is BullionVault.com. Any feedback about this site?

• Germany
7 Jun 10
The idea of those 1 g pieces of gold wrapped in plastic cards is, to have it at hand when paper money breaks (that is, to keep a survival amount of, say 200 US$, in your bedroom's private safe). Of course this is more expensive than the market price of pure gold. But it shouldn't be as expensive as is gold in rings and bracelets where the artis't work is paid on top of the material price. In conclusion, pawning should give out a higher percentage of the investment compared to jewelry gold.


• United States
7 Jun 10
Gold has always been one of the precious metals that backed currencies in the past. Then many countries began to stop that policy, and came off the gold standard, which allowed them to just print money as they wanted. Now many countries around the world are battling huge debts, the chance of inflation, deflation, and super inflation...all of these make precious metals great hedges against the currency used in those nations. If the countries currency collapses, then by holding physical gold (or silver) you still have the power to purchase goods for yourself. Another great hedge against inflation is to buy extra goods now, while the price is cheaper to use later when the price has doubled, or tripled. Right now, in my country, gold is not very well accepted as a form of payment for goods or services...however, there are plenty of places where you can easily sell your gold for money to purchase goods and services. But in the US, gold is a sought after hedge against a weakened economy. Throughout history, gold has always been considered a form of currency. We might be headed in that direction again, considering the state of the economy in many countries around the world.

• Germany
7 Jun 10
Silver obviously is a choice as well because its industrial consumption keeps it short and there are people preferring it to gold for this reason. Meaning, the value of silver is considered less speculative and its increase in value is backed up by its industrial use.

• United States
7 Jun 10
The biggest key, in my opinion, about silver as a inflation hedge is that it is still trading on the stock market at well below 50% of it's highest price. While gold is sitting at or near it's high. If gold goes up to $2,000 an ounce, what is someone going to use 1 ounce coins or bullion for? Not a gallon of milk or a loaf of bread. With silver, coins or bullion will be easy to trade for goods and services and still be a sought after commodity because of it's industrial and medicinal uses. I still think both precious metals are trading at far below what they could trade at if/when the economy collapses and silver probably has the largest gains to make.

• Germany
7 Jun 10
This is indeed an important aspect: What is sold in my country Germany is 1 g pieces of gold and this means a value of round about 50 Euro (65 US$), what is far to much to buy a bread (at least in our saturated times). But it might work to "buy" a stock of 100 kg of potatoes for a family with one of these plastic wrapped pieces of gold in case the farmer builds up trust in this type of "currency".

• United States
8 Jun 10
Unless a standard was set, it wouldn't really be worth anything. If the currency failed, the gold would still be worth something, but only what another person would value it at. And 2 different people might value the same piece of gold at different levels.

• Greenwood, Mississippi
7 Jun 10
I think things will have to get pretty bad before stores accept gold directly as payment. At least in the US few businesses are currently equipped to accept gold (that said, I have heard of a couple of small businesses that will take cash, gold, or silver!). However, even if gold can't be used directly to pay for goods and services, it is still a great protection against inflation -- it will hold its value better than most other physical assets. And if the worst case currency scenario does unfold, then I think gold could very possibly become something people turn to to use as currency eventually. By the way, I notice you are from Germany. Do you know if people started using gold to pay for things in Weimar Germany after hyperinflation took root? I've heard the stories of people driving wheelbarrows full of basically worthless money around, but don't really know how the common person tried to cope with the inflation back then. Maybe they bartered?

• Poland
7 Jun 10
The value of paper money is based on the value of gold so it is logical that gold is a good investment. I`m sure that using gold instead of paper money is the best way for people. Anyway investing at gold is a good investment.

• Germany
7 Jun 10
As I have understood, paper money isn't based completely on gold. Most of the countries give out paper money based on the strength of their economies and they do not own the whole paper money value as physical gold in their national banks. For this reason such money is object to people's trust in a country's economy.

• India
6 Jun 10
I think that is a good option to save money in the form of gold. Gold is pricing high every day and that will definitely not going to down in near future based on current demand and supply. In India we have ornaments of gold that helps in crunch time to sell them and get the required amount. A very good investment for sure.

• Germany
7 Jun 10
Could you describe "ornaments of gold" better? Is it kind of jewelery worn by beautiful women or is it kind of a coin with pictures on it to be hidden in a safe? When you buy such ornaments today, would they cost double the value of their gold content?

• Indonesia
6 Jun 10
In my place trading physical gold is booming today since everybody want to invest their moneys as golds. My region's currency with dollars is unstable today. Even trading gold online is common here. I guess saving golds is better than saving moneys because of its zero inflation characteristic, i mean an inflation never affects to gold's currency anytime. Have a nice day

• India
24 Jun 10
In my opinion buying pure goldbars and coins is the best form of investment, if one has money, one can sell his gold in any country and get right price always, not legal formality required.. Thanks for sharing. Welcome always.

Cheers.

Professor

• Germany
24 Jun 10
Yes, this is exactly the idea of "gold on plastic cards" over here in Europe. As long as the public pawnshop system is honest, prices should be very reasonable when depositing such valuables.

• India
12 Jun 10
Gold is sure a good protection against inflation and that's it. gold should not be bought as investment. Gold has been and will continue to be the default currency for the world. With shrinking confidence in dollar and Greek crises, the attraction of gold has risen manifold. Gold production has been falling and demand has been rising. These two push and pull factors are taking the price of Gold higher and higher. You can visit my blog for a detailed analysis on Gold. For now, this information should be suffice. Buy gold as an hedge against inflation and Not as an investment.

• United States
10 Jun 10
Gold always preservable, and they are valuable over time. The printing of money always back by gold, so physical gold is one way of protection if you think of it. But now it is not the good time to buy gold, because its price is high.