i fell in love with the towers in Kuala Lumpur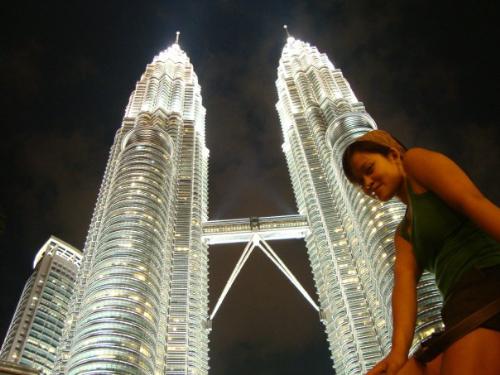 Philippines
June 14, 2010 5:06am CST
I stayed in Kuala Lumpur for just a day. From the Philippines, we went to Singapore and from Singapore we travelled to Kuala Lumpur, Malaysia through land travel. By the way I was with my fiance that time. When we left from Singapore, we didn't convert our Singapore dollar to Ringgit (Malaysian Currency). The bus stopped over for lunch but since we don't have Ringgits, we didn't eat. :( So we reached Kuala Lumpur with an empty stomach, but it was all worth it, when I saw the Petronas Tower, i fell in love with it. So we arrived in Kuala Lumpur at 3pm, we went first to the money changer station and ate at McDonalds. By the way, there's this food at Mcdonalds which is very spicy, which we don't have here in the Philippines. I for got the name. Moving forward, we stayed there until night for us to see the beauty of the Petronas Tower by night, since some friends said that it looks amazing at night, and once again the wait is all worth it. I would to love to come back in Malaysia one of these days. :) sharing you a photo of me when I was in Kuala Lumpur, Malaysia
5 responses

• Malaysia
14 Jun 10
Hi, the view is very nice at night. Did you go up the bridge? You can see the panorama view of KL from up there. I believe it's the tallest twin towers in the world. Glad you like it.

• Philippines
29 Sep 10
We weren't able to go the skybridge,too... 'Coz it was Monday when we planned to go and that is the day it is closed so we just slept late...

• Malaysia
13 Mar 13
Malaysia is indeed a fascinating place to visit especially the Kuala Lumpur city. The area around Kuala Lumpur is the most developed place in Malaysia. It is the place to go if you are looking for a little modern and developed environment with lots of shopping malls and good food. I don't stay in Kuala Lumpur but I do like to go there once in a while to enjoy the place. It's good that you enjoyed your stay in Kuala Lumpur.


• Philippines
3 Mar 11
My family is going to Kuala Lumpur this summer vacation and we're staying there for 2 weeks. My 2 boys are already excited! Of course, we're going to visit the petronas towers and try the cuisine. Nice pic with the twin towers background!

• Philippines
21 Dec 10
Nothing beats the sight of Petronas towers at night. The first time I was in Kuala Lumpur, I was only there for a night. We are going to Phuket the following day. So we were asking ourselves what to do to lull the night away. We wanted to party all night but we have an early flight to catch the following morning. So we just decided to have dinner and visit Petronas Towers. Man o man!!! What a sight from afar! But it was better when you are at its foot. We spent the whole evening picture taking in front of Petronas. All we can say was it was worth it!

• Philippines
29 Sep 10
I'm from the Philippines too and I fell in love with Kuala Lumpur when I came there. Why? Generally 'coz it is cheaper there than Singapore at the same time the expenses is like a night out in the Philippines...