100 years down the line, do you feel like living at that time?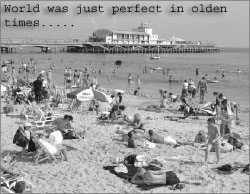 India
June 30, 2010 6:08am CST
Just think on people who lived 100 years back in this world.How their life would have been at that time where science was also not this much advanced and people were not having these many facilities, entertainment etc as they were all hard working and nature was also very clean with not this much pollution around isn't it? would you like to be in those wonderful times where everything was fresh and people were also not selfish kind like they are now? i sometimes think very hard on those times and those people and feel like living around that time
3 responses

• United States
30 Jun 10
Not being afraid of hard work and enjoying the fruits of hard work and life is great! You can count me in. I would rather live as simply as possible. Of course, if I had to go right now, I would miss the luxeries of life, like my computer and some television, but I think I am a good gardener and love to work hard to see what comes out of it. Yes, I would love to go back to those times, even if I didn't make it out okay, to see how they lived back then first-hand would be awesome!

• United States
30 Jun 10
I would like to have lived a hundred years ago, yes. While not everyone was unselfish and happy, many were. I've read studies that show that people were happier in reality just 60 years ago. Our materialism is destroying our world and our happiness. It's really very sad, what we're doing to ourselves. My mother said tha people didn't used to get sick all the time like they do now, either. She meant just colds and upset stomachs, things like that. Quality of life has gone down for everyone.

•
30 Jun 10
I think life in general back then was a lot easier. You see so many old people now, who will tell you how much they struggle with life and the way of the world now, but when they were younger they did not have half as many of the problems that we are faced with now.