Facebook Games

United States
June 30, 2010 12:33pm CST
Have you got hooked one of facebook games lately and and your addicted to it? Also got your friends hooked on as well? My friends and I are very addicted to a game called "Farmville". First started playing the game when started school again at community college in my state. Once day, I was looking a game to play on facebook, and notice farmville. I started playing it and at the same time, I meet one of my best friend there, who sitting next the computer to me alot of the time. I got her playing it as well because I need it neihbor and she need one too. After a while, when I move out of my dad and his wife's house, I gotten my roommates doing it too four days ago and right now they are level 13. My friends and I would be play it all night and day, and so we miss anything because of the other friends who logged on there too. My family members are doing too
3 responses

• United States
1 Jul 10
Cafe World is the only game I play on facebook. I used to play Farm Town but got burned out on that one so I try not to overdo Cafe World. I know some people who play several games at once and I honestly don't know where they find the time.

• United States
1 Jul 10
I was wonder how they find the time do all too. I used to play cafe world but it to boring for me to deal with it all. So I stop playing with about three months ago. I love playing with farmville because there more things do. Specialiy with my friends online and talks too at the same time.

• United Arab Emirates
30 Jun 10
Not exactly...But my wife did. I hate the that game Farmville. My wife used to be on FB hours togather. She used to see farmville everywhere. One day we were travelling to my hometown...and we came across some feild and a wind mill...and my wife started yelling...my farm, my windmill....and she drove me crazy with all that talk about FB.

• United States
30 Jun 10
It sound like more love it more than me and badly. I can't believe that you hated that much as she and I love it that much.

• United States
30 Jun 10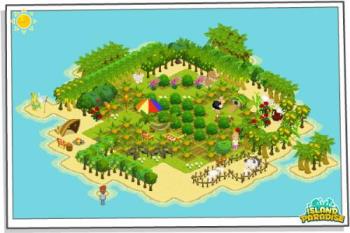 I played farmville for a while but now I don't anymore. I like to play Treasure Isle, Bejeweled & also play one called My Tribe that is a lot of fun. Island Paradise is fun too... see pic below...

• United States
30 Jun 10
I love playing farmvile since I have facebook and I will never stop playing. I'm glad and happy because of it.