Paul did it again!! SPAIN WON!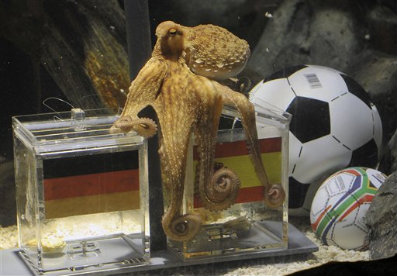 Singapore
July 7, 2010 7:55pm CST
src: http://tinyurl.com/2dvrh6s Wow... I woke up this morning and opened the papers. Cos I bought a bet that Spain would win, I flipped to the Sports page first. WOW! Spain won! Just like what Paul the octopus pointed out it would! I am truly amazed! I wonder, when it will make its next prediction. *grinz* Did you place a bet on Spain?
4 responses

•
8 Jul 10
Yeah! Spain one and I cannot wait to see the octopus prediction for the final on Sunday. I live in Spain and have said from the very begining that they would get to the finals so I have never bet against them. I am truly amazed at the octopus and I wish he was mine so he could chose the winning lottery numbers for me hehe! I had no idea he was called 'paul' but he is one very valuable octopus, I just hope he picks Spain out next :)

• Singapore
20 Jul 10
Choosing a winning team in a match is easy. Cos there are only two options. But choosing lottery... that is another whole different story! So many numbers to pick from. It may not be that easy a task. Hmm... but I wonder if Paul gave it a go before? It would be interesting to see the results.


• Singapore
8 Jul 10
ahgong, Unlike you, I did not care who that octopus was even when it emerged eventually in the media. So, I did place bets on Spain on all of their matches loosing only when they were beaten by the Swiss. I think we need to remember that Spain has the most expensive lineup and they are certainly not pushovers in this tournament. Anyway, I will still be taking them to win the finals with or without octopussy here.


• Singapore
8 Jul 10
LOL =D Just as expected, spain will win!! BEcause germany is overly tipped to win, and thus the heavy boat sink?? PLus, the odds offered by pools, has installed germans as favourites, which is very suspicious when all over the world has got spain as favourites.. lol =D That's one trap which causes false belief, and they lost.. haha =D MAybe u can try a flutter on spain winning on 12 july?? haha

• India
8 Jul 10
Spain played wonderfully yesterday,they gave germany no chance to do the goal.....