Five-Star Toilet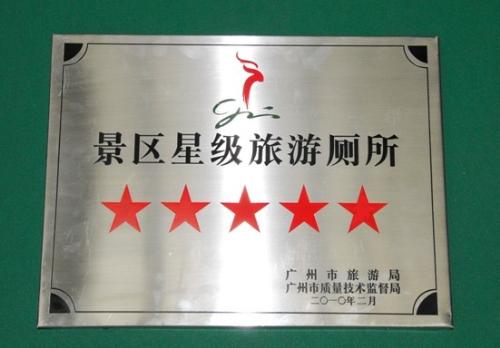 China
July 12, 2010 9:01am CST
I think some of you, my friend here has experienced five star hotels, but have you used, or even heard "
Five-Star Toilet
"???

I just used once when I had a trip to Mount Huang a week ago. After a hard climbing, when I prepared to leave, I went to a toilet to solve my personal problem

, and I suddenly found a metal sign, it wrote "
Five star toilet
" on it with five stars below. It's a pity I didn't take a photo. But after I came back home I searched internet, I found not only one stared toilet in China. The attached picture is an example, only the licence-issuing authority is different from the sign of Mount Huang. But,
should the money be spend on "Five Star Toilet"s when lots of people are still destitute in the country?

9 responses

• China
13 Jul 10
I know five-star toilet from Chinese News on TV. And I don't think that it is a fun thing. Because many toilet's enviroment is not good in China,but government doesn't spend budget to improve it. On the contrary,they refer to build a so expensive toilet. And I wonder that you went to five-star toilet once,how much is it?

• China
13 Jul 10
Well,differece always exists like that way all over the world,not only in China.Someone want such a perfect toilet to match their noble status.Just a way to meet their need of vanity.But for most of others toilet just means a place to piss.


• China
14 Jul 10
haha But I don't like to stay at toilet for long time,even thouth it is the top one.

• China
13 Jul 10
I don't quite care about whether the toilet is five-star or not .I won't stay there for a long time at all.But have such an experience exactly interest me a bit.Just be curious about it.




• New Zealand
13 Jul 10
I wonder if the 5 star toilet comes with 5 star toilet paper =0

• New Zealand
12 Jul 10
I think I'd rather stay in a 5 star hotel than a 5 star toilet ;)

• China
14 Jul 10
I have went to the Fragrant Hills in Beijing many years ago,and the toilet on the top of the mountain gave me great impressive,it's so clean and comfortable,but I have forgotten whether there was a Five-star on it.Being a toilet,clean is the most important.It's saddening to see our country spending so much money on face project and luxury engineerings.To maintain every toilet clean and comfortable especially in the rural country is more important than building the so called Five-star ones.


• United Kingdom
12 Jul 10
I know some people stay in five star hotels. I haven't ever heard of a five star toilet. I found a lovely baby diaper change room in Lithuania. I was amazed and I would say it was five star. In the developing countries in Asia I saw some terrible looking toilets. It is a shame for the country to spend money making a five star toilet in a country where many of the people are very poor. It was funny to see the worst toilet ever in Los Angeles when I was traveling in the USA. That wouldn't even be a one star toilet.

• Garden Grove, California
12 Jul 10
qianyu6 I have been in one five star hotel but never saw a five' star toilet. I am here in the US and in some service stations I have see 10 minus toilets, thats my own name, that were so gross I was half standing to do my business, I am a woman, but they were filthy. I agree China could do without expensive toilets when some people are still poor. Just so the toilet is really clean it does not have to be five star. One star thats clean would sure do if for me.