Legend Murali says Goodbye to Test Cricket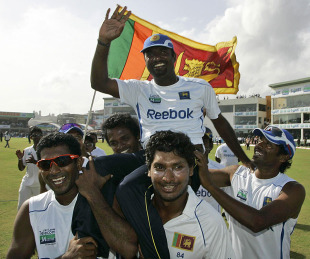 India
July 22, 2010 2:14pm CST
The Srilankan and World's Greatest and Legend, M. Muralitharan at last makes and happiest ending finishing 800 test wickets by taking very last Indian wicket of Pragyan Ojha. He started playing from 8 years old and debuted against Australia on 1992 and took only 3 wickets. C.J. McDermott was his first Test Wicket. He has a very tough time at 1995 as he was declared as "Chaker" by the Australian Umpires in the series of Australia Tour of Srilanka. Then Captain of Srilanka, Arjuna Ranatunga and Vice-Captain, Arabinda da Silva supported very much to him. Then he proved to all that he is not "Chaker" and create history making maximum number of records of his name also. maximum number of 5 wickets haul in an innings maximum number of 10 wickets haul in a test match and lots more ... I hope that in future your contribution will be much more heavier that those performances. Hats off for you.
6 responses


• India
31 Jul 10
When he had started to play in Test Cricket in 1992, Richard Hadlee was holding the record of Highest Test Wicket Taker around 430 !! Then 500 was crossed by Walsh. There after Muralitharan crossed 600, 700, and at last 800 !! unbelievable performance !!

• India
24 Jul 10
Murali has really been one of the greatest performers in the test scene. I think it is a credit to his heart to leave all the controversies behind him and still continue to perform brilliantly for Sri Lanka. The most amazing thing is he is going on top, he has taken around 40% of all Sri Lankan test wickets till date and in his final test he got exactly 40% of Indian wickets to fall!! That tells you the champion that he is. Cheers! Ram

• India
31 Jul 10
At first, Weather tried to stop him to reach or touch the milestone of 800 Test Wickets. Later on, in the 2nd innings Malinga's threat on Indian Batsmen and a run out at dieing moments also failed to stop the Genius of Spin bowling, Muthaiya Muralitharan.

• India
24 Jul 10
he deserved it. he is a legend spinner. indian batsman were unable to play the turning ball from murali, and he retires in style.and i think this record will stay long as unbroken, probably no one will break it.

• India
31 Jul 10
Muralitharan is really the genius of spinners in cricket. But i can't agree with you than Indian players were unable to play him. Indian Batsmen respect him because he could turn the match. Muralitharan had no great experience against this Sub-Continental Players who are master batsmen against spin blowing. But i am happy to see him to touch another milestone of 800 Test Wickets.

• India
22 Jul 10
Muralitharan contribution to Sri Lankan cricket is too great. At one stage team use to look at him if they want wickets in Test matches. He can turn the ball on any surface and wow what an great career he had. At one stage his career was stuck up when Australian umpire had reported his bowling action. But lot of tests by ICC proved that he was not an chaker.. What ever, he deserves an standing ovation and pat on his back. He is my favorite spinner, feel sad that he is leaving or retiring from cricket. I miss him a lot..


• India
31 Jul 10
Yes, he is the most successful cricketer in Srilankan Cricket History still. I have no doubt about it. He really had a mysterious bowling actions which confused most of the batsmen especially outside players of this Sub-continental, even this Sub-continental players also who are master to play against any spinner bowlers. Oneday everyone has to retire. So, better to feel proud for them.

• Guwahati, India
22 Jul 10
Whatever it is achieving such a feat is not a joke. 800 Test wickets! would any body break his record? Only the future will tell. There were lots of fuss over Murali's making it to the magical figure of 800 and look he has done it and on the penultimate day proved his worth. SL Cricket would surely miss him in the days to follow. Still hats off to Muralidharan.

• India
31 Jul 10
No Achievement, No Record can't be a joke. But i am very happy to see that he has achieved a final milestone at very dieing moments and i was thrilling that whether he will be able to take his 800th Test Wickets or not. And he did not disappoint any cricket lovers at all.

• India
23 Jul 10
What a fantastic swan song from the great Murlitharan! But what a poor performance from the flaunted Indian batting line up.On the one hand, Herath and Malinga score half centuries and our great put up a pathetic show excepting Sehwag. At least we put up a fight in the second innings.