Red Tomatoes Galore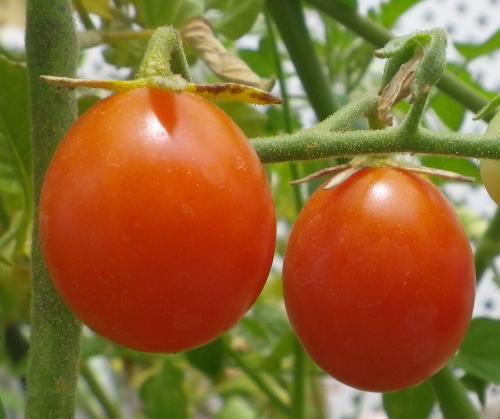 United States
July 26, 2010 3:41pm CST
My red cherry tomatoes are for the most part smaller than the Sun Golds and not as sweet, but they sure are prolific. The problem was that when the Sun Golds turn yellow-orange they are ripe, but when these turn the same color they are still "green" so when the two varieties interwined in my absence, I came back from vacation and faced a dilemna. Which was which? Would you like a tomato? If you have a garden, what is getting ripe and ready to eat. Do you mix flowers with your vegetables? If you don't have a garden, what kind of houseplants do you have? Are any of them edible?
5 responses

• United States
15 Aug 10
Our tomatoes are really coming in now here. Though it's a smidgen early but they keep saying we had a warm spring. I guess next year you should consider planting the sun golds a bit further away from the cherry tomatoes. I"d suggest putting the cherry's in a paper bag to finish ripening but if you can't tell wich is wich you don't want the sun golds to spoil.

• Indonesia
14 Aug 10
Hi there drannhh, we have tomatoes also in our small yard, chilli, and 3 mango tree we still plant more..i think fresh fruit or vegetables from our self yard are the freshesh

yum !

• India
29 Jul 10
Hi drannhh, anything raw,organic,homegrown are terrific and healthy too,and I love them blindly its being so tasty and full of freshness that at one sitting I may gallop 1/2 a kilo.....truly speaking I am really addicted to such raw,organic,homegrown vegetables and fruits.Somewhat jealous off but yes very satisfied that the garden plants of your garden is fulfilling your desire by the fruits as well as the flowers throughout the year. My garden being a small one and there is no proper sunlight so all such condition are preventing the proper growth,its almost more than 2-years mine lime tree is not flowering properly and hence no fruits as well,its now time to plant a new lime-tree at some suitable place where sunlight is available.

• United States
30 Jul 10
I have some areas of deep shade and have found a few plants that do well there, but most of the sweet veggie fruits such as strawberries and tomatoes like full sun. But I have swiss chard which likes a bit of shade growing underneath my tomato vines which shade it nicely. It is like a jungle under there. I have a dozen different plants all clamoring over one another in my raised garden.

• India
29 Jul 10
Those are luscious and nutritious. I like tomatoes, raw and cooked and even though we donot have a kitchen garden here in the city our farmhouse do produce green tomatoes in large quantities. Thanks for sharing this with us Janet.


• United States
26 Jul 10
I pulled out the beans. May plant more this fall. Had to make room for the pumpkin and the butternut squash and anything else that is hiding there. I have picked a small bunch of various peppers. Tomatoes are plentiful, but not coming in in droves, yet. Grapes were ripe, apples are okay, I could pick up the windfalls and make apple butter this week. I have never done so before, but it is easy with a crock pot I understand. Peaches not ripe yet, and neither are pears. I have a beautiful white pumpkin that is a decent size and still growing.

• United States
27 Jul 10
Sounds like a wonderful garden. My beans got off to a great start toward the end of the winter, but it is far too hot here to grow them in in spring, summer, or fall. They were just starting to bloom when the hot weather hit. My mum made apple butter every year. I had not tasted any until we stopped in Branson, MO on the way back from my recent trip to the East Coast. My brother took me to a great restaurant staffed by university students and they served apple butter with the bread. It was fabulous. Keep us posted on your pumpkin, please!