She's walking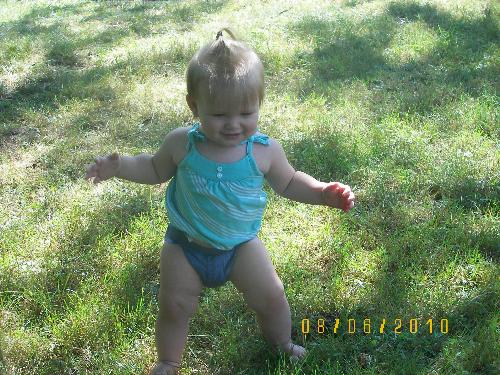 United States
August 10, 2010 1:00pm CST
My daughter had her birthday last month. She started walking fully by herself a week after her first birthday. It made me so nervous because her 2 older sisters didnt walk until 15 and 17 months. It it just too adorable. She walks around the house like she owns the place!! It is so different having a small baby walking around. I guess she wanted to keep up with her brother and sisters. How old was your child/ren when they started walking?
7 responses


• United States
10 Aug 10
Oh my goodness. I think I would have cried!! I have a friend who's son started walking at 9 months I just couldnt believe it and didnt think that was even possible. It is too cute to watch new walkers walking around. Thank you for your response.

• India
11 Aug 10
Apparently my cousin started walking at 7 months!!!! And since she is my age, I don't know for sure...only what my mother and aunts said. It must have been amazing. I love watching the developmental stage. My 13 month old is trying to speak now....okay, she can say Mummy, Daddy, etc....and she just started recognising and saying 'Baby' - which is very cute.... Sorry to go on and on about my children - the curse of being a mother.....you'd probably know it already....

NB: I have tried to upload a picture of my daughters, but I'm giving up after the fourth try and failed.

• United States
10 Aug 10
My daughter was a little over a year, she walked for about a week and has been running everywhere ever since, she is 3 now she has got to slow down a little one day right? LOL

• United States
10 Aug 10
She will at some point...maybe lol. My oldest daughter is 6 1/2 and a 7 1/2 year old stepson. They both still have a large amount of energey, it's nuts. Thank you for your response

• United States
21 Sep 10
Some babies walk early some dont. Thats pretty interesting that one of yours walked a few months earlier then all the rest though. Usually if they have the same mother and father the kids all tend to walk around the same age. Not always though. My sister and I both walked near each other. I think my sister walked at 11 months and I walked right before or right after my first birthday. My sisters kids walked at 8 months and 8 1/2 months. Both of my children didnt walk until about or 19 months so when I see little 9 months old walking around it always catches me by surprise how tiny they look.

• United States
24 Aug 10
My daughter was actually just short of ten months old when she started walking (which really shocked me considering she was slightly premature and I thought that would slow down how quickly whe met milestones). She was completely walking around like she owned the place be the time that she was a year old. Then, my son didn't start walking completely until he was closer to thirteen months old. He started crawling very early and because he was so good at that, I think it slowed down his urge to walk.

• China
11 Aug 10
congratuation to you,it is always happy and funny to see the little guy totering aroung the house and moving from here to there.I also found that it is just a slip second that you realize she can walk,i witness one of my nephew start to walk just at that day,which is really amazing...The picture looks very cute...


• Malaysia
11 Aug 10
Hi, It is amazing and a great achievement from your daughter. For my son, he started to walk stable at 13 months old. When he reached 12 months old,he can walk bit,but not that stable and need some support. It is very fun and cute when seeing our kid walks around the house and busy here and there. But it is also the time whereby we have to pay more attention, as they will start to explore more things.THeir hand will start to grab everything that caught their attention. Especially for hot water or some glass items,it is best to keep in higher place,so that they can't get reach of them. We as a parent just need to spent more time with our kids, to avoid any accident happened. Enjoy your motherhood!!!