Wrinkles on my eye and I'm only 21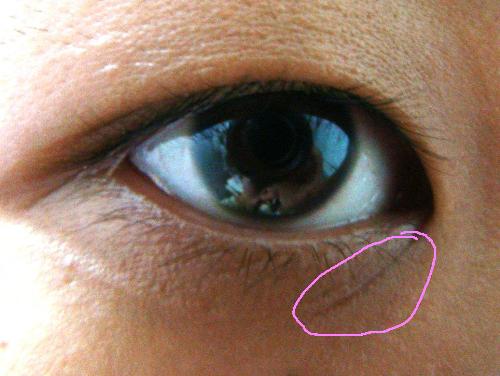 Philippines
August 12, 2010 10:43pm CST
Please help me. I have attached here a picture of my eye. I woke up just this morning and I noticed that I have a deep line under my right eye. Is this wrinkle? can wrinkles develop in 4 days? Anyway, I was sick a few days ago and I had really teary eyes and I was always crying because of the fever, cough, and runny nose. Is there any connection with this? Also how can I remedy this?
8 responses

• Canada
13 Aug 10
I doubt you can develop wrinkles in 4 days at the age of 21...well it's possible but very unlikely to happen. Anyway, it just hapenned this morning. Give it a few days for your eye to settle down. It did happen to me before when i got an eye infection and those little pleated skin formed because my eye was too swollen. Avoid touching it. the more you touch your eye, the more bacteria you will spread in that area. Do you apply alot of make up? Some people stretch the skin of the eye area to put mascara or eyeliner which is very bad. That skin is very delicate. Stretching it will just give you wrinkles faster. And no there is no remedy for wrinkles but you can prevent them to form. there are many types of creams you can buy or maybe you can look for homemade recipes cream which is more natural. But i recommand you to just leave it like that.

• Canada
13 Aug 10
You can give it a try. I usually use my index to make small circular mouvements at the very end of my eyebrow. I doubt it would hurt to try. When i get sick, my eye sockets would be swollen for a day or two. My eye would also get to normal after that. Let me know what happens when your eye won't be swollen anymore.

• United States
13 Aug 10
The most wrinkled people I have seen were also smokers. If you are concerned about wrinkles and you smoke, I suggest you stop smoking. http://www.mayoclinic.com/health/smoking/AN00644 http://www.derma-rollers.com/31/smoking-a-leading-cause-of-wrinkles http://www.anti-aging-skin-care-guide.com/smoking-wrinkles.html and many others Of course, if you don't smoke, just ignore me -

• United States
29 Aug 10
Hi, labea17. I am sure that properly resting can ease the line. And maybe you could try placing sliced cucumbers on your eye. This wrinkle came from you being sick and having an allergy in your eyes. I hope that it will go away very soon. Take care of yourself.


• United Arab Emirates
29 Aug 10
Since you mentioned that you were crying for the past few days, these lines could be just the result of it. Just relax and don't touch it much because it might worsen the situation. Drink plenty of water, get a lot of rest and try not to worry much because worrying can aggravate the situation.


• United States
14 Aug 10
Not to make light of your situation but a smile came to my face. Chances are very strong the wrinkle is due to your being sick - none of us look like a fresh rose while we're or just after.....No doubt it'll go away. No need to fuss. Make sure you rest up so your whole body can heal. Good that you don't smoke - it's a huge invite for wrinkles around the eyes and lips. If you're concerned about wrinkles look at a couple of things....your moms face and your grandmothers face, it's in the genes. 21 is a good age for a light moisturizer with some SPF. I'm a few decades older than you and have very few wrinkles. I think my mom for that and Olay. Hang in there pretty one.

• India
14 Aug 10
hi, yes because you were sick this wrinkle appears :( but dont worry, try these options option 1 - sleep minimum 8 hours and wash ur face often with cold water option 2 - apply smashed potato till it get dried and wash with cold water option 3 - try to keep cucumber in eyes which is a usual one try and let me know!!! u will be alright

• Craig, Alaska
14 Aug 10
Any adult any age can get wrinkles under their eye. The reason lack of sleep. I've had this experience for years over and over again. Most of the time I get 6 hours asleep at least and then I don't get wrinkles under my eyes or black rings under eyes.