Speeding ticket conviction.

Canada
August 25, 2010 5:08pm CST
Thank you stupid government for screwing me up! Got the mail today and in it was my speeding ticket conviction, given to me without me knowing about a court date!!! I gave them my address, I don't know why they didn't send it to me. I made it a point to make it clear that I had moved. So now I have to pay a fine, but I want to find a way to fight it as I just want to get rid of the points. Not a good way to end a good day.
6 responses

• United States
26 Aug 10
Bummer. I don't know what jurisdiction you got your ticket in, but isn't a court date written on the ticket at the time it is issued? Aren't you given the option to pay the fine, as long as you pay it before the date on the ticket i.e. the court date? I have to agree with Hatley on this one -- speeding is speeding. A hidden trap doesn't make it any more legal. Also, just to clarify, you say you lost your license. Was it suspended as a result of this speeding ticket, or had you already lost it?

• Canada
26 Aug 10
I lost my license last week after failing my road test. It was already expired, and I had no chances to do my road test again. Back when the speeding ticket was issued, there was no date set, they don't do that here. I had to go to court and wait to get my court date in the mail, but it never came.

• United States
26 Aug 10
Wow, that sucks. Call the court clerk, Or go down to the courthouse personally and see the clerk. Find out when and IF the court date was mailed and if so, to what address. Tell them you never received the summons. Whether it will help or not, it can't hurt to try and you have nothing to lose, but a whole lot to gain. Generally, a speeding ticket will not generate enough points to prevent you from taking the road test again.

• India
25 Aug 10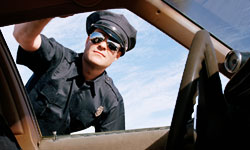 Hi Kris, It must be frustrating and hair-tearing for you to be able to do nothing to vindicate your motives and perfect civic mindedness. You feel as if they are telling you to go hang yourself! That is our fate in this system. Read this about another genuine victim of the curse of parking tickets! ".............As Jeffrey Halstrom fought for his life on a St. Michael's Hospital operating table, the surgeon who had been rushing to his rescue was waiting on the side of a road for a Toronto police officer to write him a ticket for speeding. Halstrom, who is recovering in the hospital's intensive care unit, suffered a massive heart attack around lunchtime Saturday. A short time later, Dr. Michael Kutryk, the hospital's cardiologist on call over the weekend, was stopped by a radar unit while rushing from his Leaside home to help. But no amount of pleading or explaining would deter the officer from issuing the physician a $300 ticket, said Michael Oscars, Halstrom's longtime partner........" In the Photo alongside, see the ominous face of a cop determined to do his job dutifully by booking you with a speeding ticket.

• Canada
25 Aug 10
That's such a sad story, especially since St. Mikes is a regional trauma center, and time is of the essence when it comes to things like that. I was nailed in a hidden trap, didn't see it until it was too late. On a hill, going downhill, that was my problem.

• Garden Grove, California
25 Aug 10
hi kris why not just pay it and do not speed a gain. as a pedistrian who has dodged speeders over the years I have little sympathy with them for getting ticketed for speeding. If you had not gone over the speed limit you would not get a ticket. simple logic. If you ever walk across on a green light and find a car thundering toward you as they ran a red light then you will think twice about speeding. speeders can and do kill people that are innocent. what is so important it could not wait another twenty minutes?




• Canada
25 Aug 10
It was a hidden trap, and sad thing is that they haven't been back there since. I wasn't intentionally speeding, didn't realize that I was speeding until it was too late. I have always watched my speed, but even now, I've lost my license, it doesn't matter much, I probably wont be able to get it back with this on it, since I have to start all over again as a new driver. I'd been driving for 3 years before I ever got a speeding ticket. I now have points and a fine on my expired license and that wont help my insurance. I consider myself a good driver as it's what I was doing for a living until last week.

• United States
26 Aug 10
It's happened to me, twice! I had two speeding tickets, and boy did I have to pay. I don't want to get any more speeding tickets because I cannot afford them. I have to pay for my own health insurance now, and I don't have the money to pay for tickets.

• United States
26 Aug 10
That would sure ruin a good day. I am so sorry that you were hit with it. I don't know where you could go to fight it unless you get a lawyer to do it for you.

• United States
25 Aug 10
Hello kris182_2000, You are right. No one wants to end the day on a bad news letter!! However, the only thing you can do is to try and find an attorney. Sometimes, you can request a hearing if you can prove that you changed your address, without an attorney. More importantly, just drive the speed limit for the next 5 years. Not only will you save your life and others, your auto insurance rate will drop, and you will be older, another rate decrease. Try not to dwell on it. Fight if you know that you are right. Good Luck. :)