A very special 50th Cake !!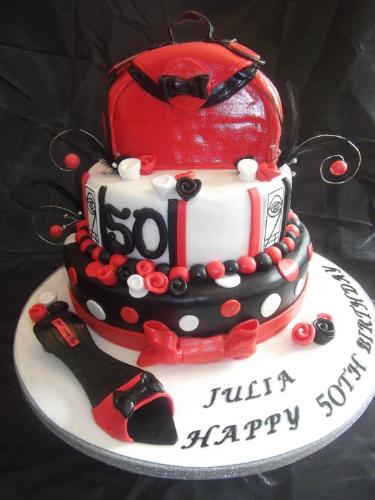 August 26, 2010 2:39am CST
When I was visiting my daughter's house last week she received an e-mail from someone who had seen her website requesting a 'special cake to be a centrepiece' for his wife's 50th birthday party. He gave an unusual list of requirements on the cake - he wanted the designer Rennie Mackintosh to be featured on the cake, as well as shoes,bags,Per Una... favorite colours of black and red and feathers/diamantes, he wanted it for 1 week latr! So Helen made a three tier cake for him - the top tier into a Per Una bag, she made an edible Per Una shoe, rolled roses and handpainted plaques for around the middle tier with a Rennie Mackintosh design on, the bottom tier was finished with a fondant ribbon and bow, middle tier finished with handrolled balls. She then added some black feathers with diamantes and wire curls with colouored balls. This was a large cake, 11 inch chocolate bottom tier, 9 inch madeira middle tier and a handbag on top cut from a 7 inch madeira _ I have added a picture. I personally think that this is superb and for her to design it and make it in 6 days was pretty good goin! What would you think of a birthday cake like this? It is going to be a surprise for his wife, I think that she will be delighted - what about you?
10 responses


• Pamplona, Spain
26 Aug 10
Hiya chem, I would be delighted I don´t know about anyone else how lovely it´s beautiful. Very nice photo of it also. Must have taken a lot of nerve wracking hours to make it. It´s very well detailed and to the point I like it very very much. Very well done and a Very Happy Birthday to Julia. Bet Julia will love it.



• Pamplona, Spain
27 Aug 10
Hiya chem, Exactly it must be difficult to know what to do and how to please the Person who wants it made and the other P

erson who is receiving it. Very good Job done there.


• Libya
27 Aug 10
can i have a some from you 100 years cake hope you have happy and long life

• Shingle Springs, California
26 Aug 10
I think if I had gotten a cake like this for my 50th, I wouldn't be getting a divorce.


• Spain
26 Aug 10
that must be 50th not 15th your image file name...wow! what a great detailed cake.. i wonder how long does it take to make such awesome delicious yummy looking cake!



• United States
26 Aug 10
What a beautiful cake! It looks like one of the fancy cakes they make on the Food Network channel. I am sure the birthday gal will be quite pleased!

• United States
26 Aug 10
This is amazing all the way round. First off, hubby was so attentive as to want this cake and he knew what his wife likes the best. Secondly, for your daughter to be able to pull it off so quickly is just amazing to me.She creates edible art. It is nice to share with you and for you to share with all of us.

•
26 Aug 10
Isn't it funny what you sometimes misread at a glance? I saw this for a moment as a 500th birthday cake! Another that I remember is walking past a Cornish Pastries shop, and thinking it said Cornish Panties. I did look back, and it was put right, but for a split second.... I'm not a Mackintosh guy, but I am a fan art deco generally, and black/ red is a great combination. We have a small collection, but tending toward cream and white- from Eltham House. My partner is planning a 50th for me, and I have said quite succinctly that I want nothing of the kind. I am dreading that she really will do something. I know I 'talk' with people here, but on the whole I do not like people. I'd rather we go for a quiet meal, or have a lovely present (and it only has to be well thought out- a rare model kit) than have a load of hangers on celebrating my birthday. She does not seem to want to let go of the idea. This disturbs me.