Are You Sun Sensitive?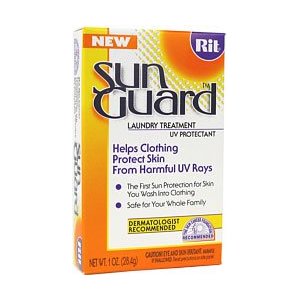 United States
September 5, 2010 2:20am CST
Did you know there's sun screen for clothes? There is!! It's called Rit Sun Guard! I have lupus which makes me very sun sensitive so I have to wear sun screen all year around. Most clothing doesn't screen out the sun but when you wash your clothes in Rit Sun Guard, your clothes will then screen out the sun! Once your clothes are washed with this stuff, it's good for twenty washes! You don't feel any of the sunscreen either! It feels just like it did before you washed it. I wouldn't go without this stuff because it works THAT good! So, are you sun sensitive? Get some Rit Sun Guard for your clothes! Also, I think they've changed the colors from orange/white to blue/white. Not sure but the link I'm putting up shows it in blue/white however, there's other sites where it shows it being in orange/white. Not a referral link! https://sunguardsunprotection.com/?ccUser=f658a28295e12d8230bf9d0ba4ebd9c4 Information from this site: Washes UPF 30 sun protection into everyday clothing Blocks more than 96% of the sun's harmful rays Protection lasts through 20 future washings No need to buy special garments
4 responses


• United States
5 Sep 10
I'm SO glad to be of help Elic!! Its reasons like your roommate that makes discussions like this so worth while! I enjoy passing on good information and/or learning something new!! This stuff really DOES work! I use it myself and you don't feel anything except the clothes itself.


• United States
6 Sep 10
LOL There ya go! I gave you a good excuse then, eh?

Now a bit of advice, I've found it to be wise to shop around online to find the cheapest price for this
IF
you do buy it online. It's been a while since I've bought it because I get it in bulk so I still have some and not in need of it right now.

• United States
5 Sep 10
Good morning, What the devil u doing up at this hour???? nOW u can ask me the same thing, lol. I'm not sensitive to the sun but isn't that great that they have a product like that for people who are. I'm glad u found out about it. Have a great day. hugs.

• United States
5 Sep 10
And I am! LOL What are YOU doing up at this hour, Jo?!! LOL I'm usually up till. 2 or 3am. I'm a night owl.... what can I say?

I love the quietness of the night. So peaceful and serene, ya know? Anyway, I found out that a friend is sun sensitive like I am but from different reasons and she didn't know about fit sun guard so I thought how much good it would be to pass this on so to help others with this problem. To be able to live our lives as normal as possible like everybody else is like birthdays and Christmas back again....

That's the only way I can describe it.


• United States
5 Sep 10
I'm not a good sleeper & i have had too much on my mind this week. tHAT'S A GOOD WAY TO DESCRIBE IT. gLAD U HELPED A FRIEND OUT & MAYBE OTHERS. Have a good night.

• United States
5 Sep 10
I'm not sun sensitive but know several people who are. I've never heard of this but what a great idea. I am going to make a note to myself to pass on this information as well as check for it at local stores to see if they carry Rit Sun Guard.

• United States
6 Sep 10
You'll have a number of friends who'll be so happy to have you for a friend when you give them this information because to be cooped up inside all the time really does grate on ones nerves. We're all human and we all need some fresh air and a different scenery from time to time and this will help them do that.


• United States
5 Sep 10
And that's putting it mildly jillhill. I went through YEARS of depression till one day I decided I had no choice but to accept it or continue being miserable knowing full well that either way, it's not going to change a thing however, it's better to find happiness or that silver lining that exist's within myself than to be miserable for the rest of my life. And having lupus, it's another reason I'm on zoloft.